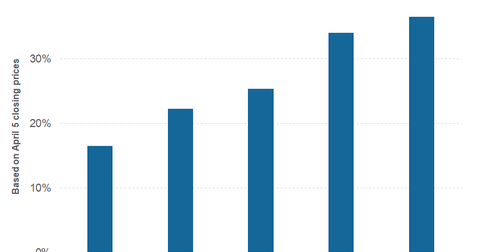 Is the US Economy Slowing Down? Trump's Views versus Buffett's
By Mohit Oberoi, CFA

Updated
US economy
On multiple recent occasions, US President Donald Trump has said that the US economy is doing very well. On April 5, following the release of the March jobs report, the president told reporters, "Our country's doing unbelievably well economically."
Prior to that, on April 4, he tweeted, "Despite the unnecessary and destructive actions taken by the Fed, the Economy is looking very strong."
Article continues below advertisement
President Trump
After the Dow Jones Industrial Average (DIA) wrapped up its best quarter in 30 years, Trump tweeted, "We have, by far, the strongest economy in the world!"
Most fund managers don't buy into Trump's views on the economy. Even the US Federal Reserve expects US economic growth to fall to 2.1% in 2019 and 1.9% in 2020. In contrast, the US economy (SPY) expanded a healthy 2.9% last year.
An economic slowdown is happening across the globe, with all major economies, including China, expected to see slower growth this year. However, in percentage terms, the US economy is expected to see a much sharper slowdown than China this year.
Warren Buffett
Berkshire Hathaway (BRK-B) chair Warren Buffett has also discussed the economic slowdown. In an interview with CNBC, Buffett said, "It does look like the pace of increase in the economy has slowed down." He added, "It does look like it's slowing down. I don't mean it's reversing course, but it does seem [that way] from all of the businesses, especially the railroad statistics."
Berkshire holds stakes in several publicly-traded companies, including Apple (AAPL) and the Kraft Heinz Company (KHC). While Buffett once held quite a bearish view of the airline industry, at the end of the fourth quarter, Berkshire held Delta Airlines (DAL), United Continental (UAV), Southwest Airlines (LUV), and American Airlines (AAL) in its portfolio.