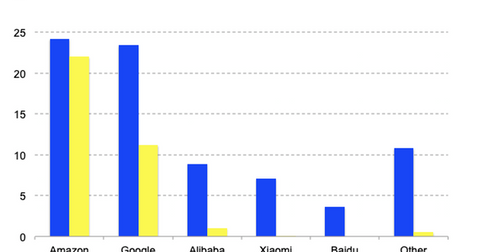 Is Apple's HomePod More Competitive after the $50 Price Drop?
By Sanmit Amin

Updated
Apple's HomePod is now available at $299
Apple (AAPL) has been cutting the prices of its hardware products. Recently, it slashed prices on some of its flagship iPhone models in China, Japan, and India to boost sales. Apple's smart speaker, the HomePod, has not seen blockbuster sales like Amazon Echo or Google Home due to its steep $349 price tag. But, Apple does not need a high volume of sales to make decent revenue from its smart speaker given the much higher price on the HomePod. However, the company just cut the price on its HomePod by $50 to $299. That said, the price remains steep compared to the very competitive prices offered by Amazon and Google on their respective smart speakers.
WAKE UP WITH BAGELS & STOX, OUR NEW EMAIL THAT ENTERTAINS AND INFORMS YOU BEFORE THE DAY STARTS. SIGN UP HERE!
Article continues below advertisement
Can HomePod compete with Amazon and Google with the new price tag?
While Apple's HomePod has been deemed to be less sophisticated compared to the Amazon Echo, except for its hardware, speaker, and the ability to hear users from a distance, Apple has addressed many issues with a number of software updates. The drop in HomePod's price along with software updates makes it a much more competitive offering, although the price tag could still put many off.
The price cut could prompt many Apple lovers to buy the HomePod. Whether the drop in prices will be followed by the launch of a new version of the HomePod is not known yet.