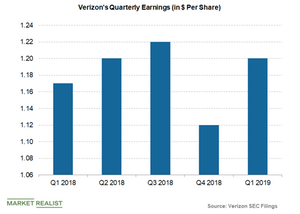 How Verizon Is Cutting Costs to Boost Savings
By Sophia Nicholson

Apr. 24 2019, Published 4:01 p.m. ET
Verizon's cost savings plan 
Verizon (VZ) has been undertaking measures to boost its savings by cutting its costs. Its cost-saving initiative has already realized approximately $3 billion in cumulative cash savings up to the first quarter. The company is in the process of delivering $10 billion in cumulative cash savings by the end of 2021, which can help it invest in critical areas such as 5G network development.
Verizon had already launched its fixed 5G Home Internet service in a few US markets in October. The company added two more US cities last month. AT&T (T) launched its mobile 5G service in a dozen cities in December 2018. Sprint (S) is planning to launch its commercial 5G mobile service in nine US cities by the first half of 2019. However, T-Mobile (TMUS) doesn't plan a 5G launch before the second half of 2019.
Article continues below advertisement
Cost-cutting efforts
Verizon, through its voluntary separation program, is contributing to its cumulative cash savings goal. Verizon has already completed the first two phases of its Voluntary Separation Program and realized approximately $180 million in expense savings at the end of Q1 2019.
As part of its program, Verizon had offered 44,000 employees, which is ~30% of its total workforce, to take up early retirement in October 2018. Around 7% of the company's employees—10,400 people—reportedly took up buyouts, which included 60 weeks of salary bonus and benefits, and they're expected to leave the company in mid-2019.
Owing to the ongoing cost-cutting efforts, the company has raised its profit forecast for 2019. Verizon expects its adjusted earnings to grow in low single-digits in 2019, higher from the previous expectation of adjusted earnings to be same as that of 2018 earnings of $4.71 per share. Verizon's earnings grew 2.6% year-over-year to $1.20 per share in the first quarter.