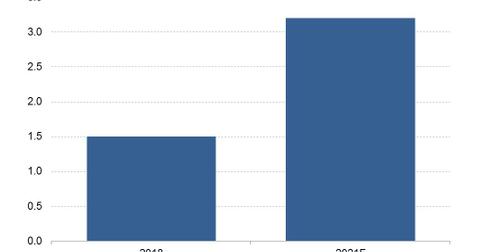 How Twitter Is Trying to Stay out of Trouble in India
By Neha Gupta

Updated
Twitter lost $1.9 million because of bad politics
Twitter (TWTR) recently rolled out new reporting tools for its users in India, allowing them to more easily flag misinformation about voting in the country. Twitter is doing all this in a bid to curb the spread of fake news on India's ongoing national elections. The company understands that users can tap into its platform to run malicious campaigns to suppress voter turnout or misguide voters about marking the ballot materials in a bid to unlawfully influence the outcome of the election.
Article continues below advertisement
In 2017, Twitter said it was giving up the $1.9 million in revenue it generated from certain Russian entities that were accused of running propaganda messaging campaigns aimed at American voters in the run-up to the 2016 presidential election. Twitter decided to forego revenue from the Russian advertisers to show that it doesn't support election meddling.
Twitter can't afford to jeopardize its India prospects
Given how brands such as Johnson & Johnson (JNJ) and AT&T (T) boycotted YouTube advertising in protest of objectionable content on the video platform, Twitter is working hard to ensure that its platform is not used to interfere with elections in India or anywhere else. The company hopes that curbing political interference on its platform will help it stay out of trouble with regulators and preserve its reputation.
India's advertising market presents an attractive growth opportunity, so Twitter does not want to jeopardize its prospects in the country. Spending on digital ads in India hit $1.5 billion in 2018 and is projected to reach $3.2 billion by 2021.