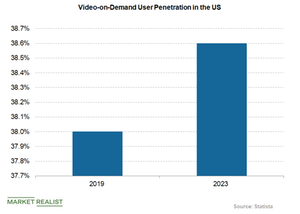 How Is Disney Placed in the Streaming Service Industry?
By Sophia Nicholson

Updated
Disney's focus on streaming options
The Walt Disney Company (DIS) is set to launch a new direct-to-consumer service, Disney+, which will stream Disney-based movies and TV shows, toward the end of 2019.
The company's launch of its Disney-branded streaming service comes amid growing user penetration in video-on-demand services. The media company already has a direct-to-consumer streaming service called ESPN+ for sports lovers.
Article continues below advertisement
Fox deal might help boost Disney's streaming efforts
The company's recent acquisition of 21st Century Fox's assets added Fox's studios to its portfolio. Fox's hit movie franchises, including Deadpool, X-Men, and Fantastic Four, could also be part of Disney's upcoming streaming offerings, as Disney aims to compete with digital giants Netflix (NFLX) and Amazon (AMZN). Disney is also planning to continue investing in original film and TV content to enhance its streaming platform.
The Fox deal also provided Disney with a 60% stake in online streaming service Hulu, which will offer four adult animated series from Marvel Studios featuring Marvel superheroes. Earlier, Disney held a 30% stake in Hulu, but it acquired another 30% via its acquisition of Fox's assets.
Comcast (CMCSA) still has a 30% stake in Hulu, while AT&T's (T) WarnerMedia owns a 10% stake. Hulu will reportedly continue to stream content from broadcast networks along with its own original series, such as The Handmaid's Tale and Castle Rock.
In a bid to attract customers, Disney is also offering discounts to those customers who buy subscriptions to all three of its streaming services: ESPN+, Disney+, and Hulu.