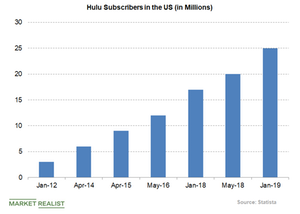 How Disney Can Help Hulu Gain More Subscribers
By Sophia Nicholson

Apr. 17 2019, Published 8:14 a.m. ET
Hulu subscribers
Hulu has added 8 million subscribers since January 2018 and has added nearly 22 million subscribers since January 2012. At the end of 2018, Hulu had 25 million subscribers in the US. On Thursday, Walt Disney (DIS) stated that it expects Hulu to gain 40 million to 60 million subscribers in the US by the end of fiscal 2024.
Article continues below advertisement
Hulu's premium content
Hulu's shows, including exclusive and original series, cater to both adults as well as kids. Hulu has been focusing on unique content offerings, as Hulu subscribers prefer to watch licensed series such as ER, Lost, and Bob's Burgers.
Hulu's dark originals such as The Handmaid's Tale and Castle Rock have been very popular. Disney, which now has more than a 60% stake in Hulu after AT&T (T) sold its 10% stake to Disney and Comcast (CMCSA), has plans to expand Hulu's content and portfolio internationally. Disney is also working with Hulu to make adult-oriented animated series with Marvel superheroes.
Hulu will also complement Disney's direct-to-consumer streaming line-up. Disney already has a direct-to-consumer streaming service called ESPN+, launched in April 2018, and is set to launch a Disney-branded streaming bundle on November 12.
Like Disney, AT&T's WarnerMedia is also rolling out its streaming service in late-2019, while Comcast's NBCUniversal is debuting with its streaming service in early 2020 to fight digital rivals Netflix (NFLX) and Amazon (AMZN). Discovery (DISCA) is also looking to roll out its streaming product in 2020, while iPhone maker Apple is set to launch its video streaming service in the fall.