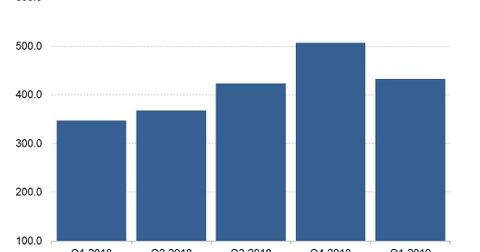 How Americans Use Twitter—and What It Means
By Neha Gupta

Updated
Twitter's most active American users are women
A new report from Pew Research Center this month has shed light on how Americans use Twitter's (TWTR) social media service. According to the report, Twitter is driven by a minority force in America: just 10% of its adult users in the United States are responsible for 80% of the posts shared across the platform. This could be viewed as an approval of Twitter's efforts to rid its platform of bad actors and content in a bid to foster what it sees as healthy conversations.
The report also shows that women account for around two-thirds of Twitter's prolific users—the 10% that drive 80% of the conversations on the platform. This figure could be viewed as another nod to Twitter's efforts to protect its female users from abuse and harassment.
Article continues below advertisement
The social platform for educated Americans
In what can be viewed as a positive for Twitter in its pursuit of advertisers' expenditures, the Pew study has found that Twitter users in the United States tend to be more highly educated and to have higher incomes than the country's general population. Twitter exited the first quarter with 28 million daily users in the United States.
Twitter generated 55% of its revenue from the United States
Twitter generated $432 million in revenue from the United States in the first quarter, accounting for 55% of its worldwide revenue. Snap (SNAP) and Pinterest (PINS) are two other American social media companies that derive the majority of their revenues from the domestic market. Pinterest generated 95% of its revenue from the United States in 2018, while Snap generated over 70% of its revenue from North America in the first quarter of 2019. Alphabet (GOOGL) and Facebook (FB) typically generate most of their revenues outside the United States.