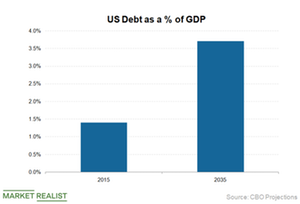 Gundlach Predicts What the Next Downturn Will Look Like
By Anuradha Garg

Apr. 16 2019, Updated 4:55 p.m. ET
Jeffrey Gundlach on the next downturn
Jeffrey Gundlach believes that if equities do well this year, emerging market equities will do better than US stocks (SPY) (DIA). If, on the other hand, equities don't do well, we could see a repeat of the pattern in the fourth quarter of 2018, where emerging market stocks (EEM) went down less than US stocks (QQQ), which happened even without a weaker US dollar (USDU) (UUP).
Article continues below advertisement
Emerging markets versus developed markets
Worsening the recession situation
In the next downturn, the federal deficits will also likely expand, which will be financed through the issue of bonds (BND) (AGG). Based on the natural market forces, as the supply of bonds increases without any corresponding increase in demand, the interest rates should rise. This scenario, in Gundlach's opinion, will make the recession even worse.
In addition to this, a large chunk of corporate-grade bonds, which are rated investment-grade right now, will be rated junk (JNK) in a downturn. Gundlach previously stated that while there still isn't an imminent sign of a recession, we could see one in 2020.
US companies Apple (AAPL) and NVIDIA (NVDA) have warned that China's slowdown is hurting their earnings. Microsoft (MSFT), Amazon (AMZN), Netflix (NFLX), Alphabet (GOOG), and Facebook (FB) have also been affected by the trade issues between the world's two largest economies.