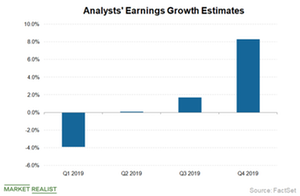 GS and MS Agree with Bridgewater about Peak Margins
By Anuradha Garg

Nov. 20 2020, Updated 2:27 p.m. ET
Bridgewater and Goldman Sachs
Bridgewater isn't alone in believing that most US companies (QQQ) are experiencing peak margins. Goldman Sachs (GS) also believes that S&P 500 (SPY) companies' margins could fall to levels that haven't been seen since the financial crisis.
As reported by CNBC, GS's equity strategist, David Kostin, said, "All 11 sectors have experienced negative 2019 EPS revisions since the start of the year." He also said, "As margin pressures mount, investors should focus on companies that have demonstrated the ability to maintain margins through pricing power." Goldman Sachs has screened several stocks for higher pricing power. It's identified Nike (NKE), Home Depot (HD), Coty (COTY), and Adobe (ADBE) as companies with high pricing power.
Article continues below advertisement
Morgan Stanley: Earnings recession
Morgan Stanley (MS) has been quite vocal in its anticipation of an earnings recession, which means at least two quarters of year-over-year corporate profit declines. As reported by CNBC, MS's chief equity strategist, Michael Wilson, said, "The earnings profit recession is real." Wilson has repeatedly characterized this market as a "rolling bear market." MS has also cited rising labor costs as a major headwind to profitability.