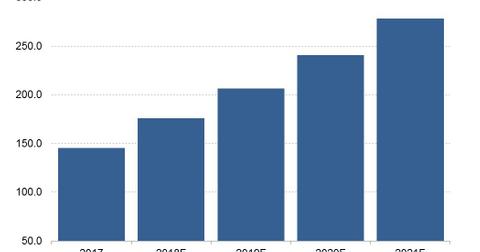 Google Seeks Oracle's Talent for Its Cloud Business
By Ruchi Gupta

Updated
Google again raids Oracle for talent
Google's (GOOGL) rivalry with Oracle (ORCL) looks to be far from over. It recently hired an Oracle veteran for an executive role in its Cloud Computing segment, according to a Reuters report. The development came just a few months after Google poached Thomas Kurian from Oracle to run its cloud business.
Kurian was the head of product development at Oracle and had spent 22 years at the company before he moved to Google last year. Now joining Kurian at Google is Amit Zavery, who until his exit was a high-ranking executive in Oracle's cloud division. Zavery worked at Oracle for ~24 years.
WAKE UP WITH BAGELS & STOX, OUR NEW EMAIL THAT ENTERTAINS AND INFORMS YOU BEFORE THE DAY STARTS. SIGN UP HERE!
Article continues below advertisement
Cloud vendors are eyeing a $206.2 billion prize in 2019
Oracle is one of Google's rivals in the cloud computing market. With the talent poaching, it appears Google is out to use those who understand how Oracle works to defeat Oracle in the important cloud market. There's a $206.2 billion revenue opportunity up for grabs in the global public cloud market this year, according to Gartner estimates.
Besides Google and Oracle, the other corporate giants vying for revenue in the cloud market include Amazon (AMZN), Microsoft (MSFT), and IBM (IBM). According to Synergy Research estimates, Amazon leads with a ~35.5% share of the global cloud market as of the end of 2018. Microsoft comes in second with a 15% market share, while Google and IBM are tied for third place with a 7.5% market share each.
Google and Oracle are fighting over Android
Cloud isn't the only area in which Google and Oracle are at each other's throats. Google and Oracle are also tangled in a long-running legal battle over Android software. Oracle is seeking $9.0 billion from Google for allegedly using its copyrighted technology in Android without its permission.