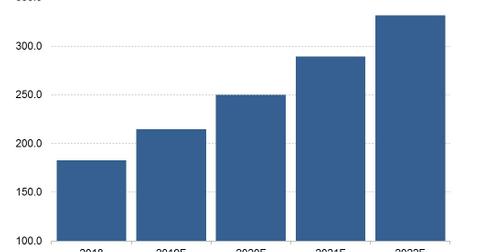 Google Bets On a Larger Sales Force in Its Cloud Push
By Ruchi Gupta

Updated
Former Oracle executive leading Google's cloud business
At the moment, Google's (GOOGL) cloud sales team is roughly one-tenth the size of the cloud sales teams at Amazon (AMZN) and Microsoft (MSFT), Google cloud business head Thomas Kurian said recently in an interview with the Wall Street Journal.
Amazon and Microsoft are the world's top cloud companies. They hold ~35% and 15% of the global cloud market, respectively, as of the close of 2018, according to Synergy Research estimates. Google and IBM (IBM) each held a 7.0% share of the global cloud market at the end of 2018. Alibaba's (BABA) share of the global cloud market was estimated to be 5.0% at the end of 2018.
Article continues below advertisement
Google wants to rapidly expand its cloud sales team. In two years, the company wants its cloud sales team to be at least half the size of the sales teams at market leaders Amazon and Microsoft. Kurian took over as Google's cloud chief toward the end of 2018. He had been a top executive at Oracle (ORCL) for years before he resigned and joined Google.
Google pursuing $331 billion in the cloud market
In the global cloud market, Google is pursuing a $214.3 billion revenue opportunity this year, according to Gartner estimates. The global cloud market is forecast to grow to $331.2 billion by 2022.
Google is keen to rapidly develop its cloud business not only because of the revenue opportunity in the cloud computing market but also because the cloud business is important to its efforts to diversify outside the advertising business. Google currently derives the vast majority of its revenue from advertising.