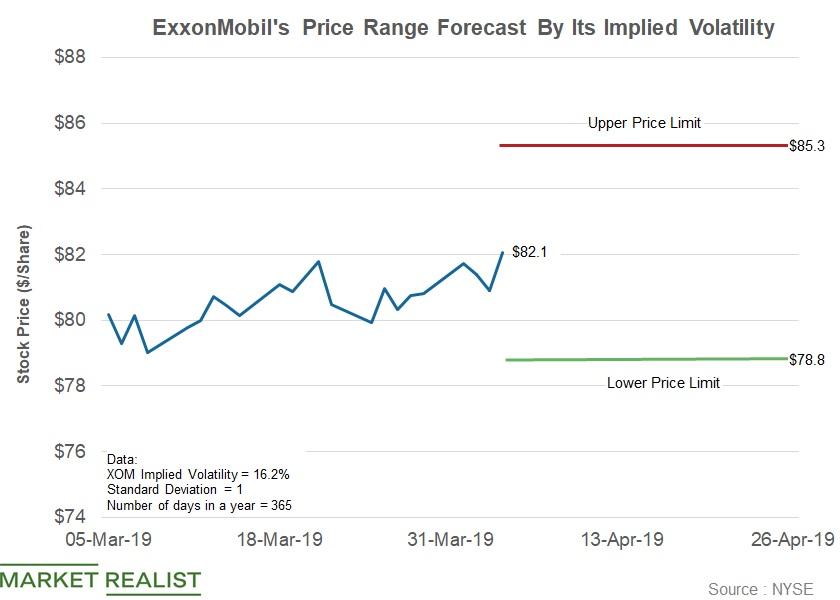 Forecasting ExxonMobil's Stock Price ahead of Q1 Earnings
By Maitali Ramkumar

Dec. 4 2020, Updated 10:51 a.m. ET
Implied volatility in ExxonMobil
Let's look at ExxonMobil's (XOM) stock price forecast range, based on its implied volatility, for the 22 days leading up to its earnings release. This price forecast is based on the current implied volatility in ExxonMobil. The company is expected to post its Q1 2019 earnings on April 26.
Article continues below advertisement
Expected price range for ExxonMobil stock for the 22 days ending April 26, 2019
Considering ExxonMobil's implied volatility of 16.2% and assuming a normal distribution of prices (a bell curve model) and standard deviation of one (with a probability of 68.2%), ExxonMobil stock price could close between $85.3 and $78.8 per share in the next 22 calendar days, ending April 26, 2019.
Implied volatility in peers
Contrary to ExxonMobil, implied volatility in Total (TOT) has risen by 1.4 percentage points over March 4 to 16.8%. Also, implied volatility in Petrobras (PBR) and Suncor Energy (SU) has increased by 2.0 percentage points and 0.6 percentage points, respectively. Implied volatility in Petrobras and Suncor currently stands at 38.2% and 22.6%, respectively.
Total and Suncor's stock prices have fallen 2.6% and 3.4%, respectively, since March 4. Meanwhile, Petrobras stock has surged 3.9%.