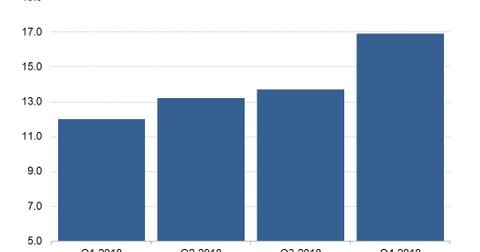 Facebook Revamps Its Board, Removes Netflix CEO
By Ruchi Gupta

Updated
PayPal executive added to the board
This month, Facebook (FB) announced changes to its board of directors. The company has nominated PayPal (PYPL) executive Peggy Alford to stand for election to its board at the annual shareholders meeting in May, and announced that Netflix (NFLX) CEO Reed Hastings and Erskine Bowles, Bill Clinton's former chief of staff, would not stand for re-election. Hastings and Bowles have been Facebook directors since 2011. Last August, Bowles turned 73, the age of retirement for board directors according to Facebook's policy. The reason for Hastings's departure isn't clear.
Article continues below advertisement
Facebook and Netflix have competing ambitions
Hastings is leaving Facebook's board just as the company's competition with Netflix is heating up. Facebook's dedicated video service, Watch, rolled out globally last August. In just three years, it had attracted over 400 million users. Watch is complete with original programming and is offered free to everyone with advertising. Netflix, meanwhile, charges a monthly fee for its video service.
Conflicts of interest
Conflicts of interest have led to board shakeups elsewhere. Last year, Walt Disney (DIS) decided not to nominate Facebook executive Sheryl Sandberg and Twitter (TWTR) CEO Jack Dorsey for re-election to its board, just as Facebook and Twitter were busy developing video businesses set to challenge Disney for pay-TV customers. Facebook's revenue rose 30% year-over-year to $16.9 billion in the fourth quarter.