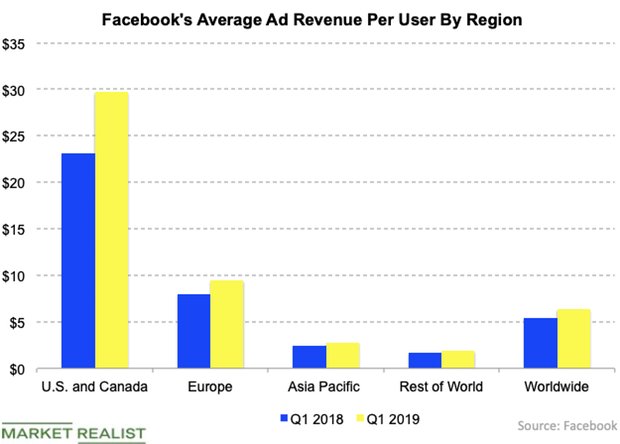 Facebook Continues to Make More from Its US and Canadian Users
By Sanmit Amin

Apr. 26 2019, Published 12:30 p.m. ET
Facebook continues to eke more out of North American users
Facebook (FB) made $6.35 per user worldwide in terms of advertising revenue in the first quarter, a rise of 16.5% YoY (year-over-year). In the previous quarters, a major worry for investors was that Facebook's core platform wasn't growing its user numbers in the United States, Canada, or Europe—its most lucrative regions.
Facebook's US and Canadian daily user base has remained constant at 186 million. However, its number of daily active users in Europe rose by 4 million in the first quarter from the previous quarter. In the United States and Canada, Facebook made $29.69 per user in ad revenue compared to $9.45 per user in Europe. It makes considerably less in other regions, where it's seeing most of its user base growth.
Article continues below advertisement
Facebook is seeing most of its user growth in the Asia-Pacific—its least lucrative region
While Facebook hasn't been able to grow its US and Canadian daily user base in the last couple of years, it's been able to better monetize that user group. In the first quarter, Facebook made $29.69 per user in ad revenue in the region, a rise of 28.3% YoY.
Facebook added an impressive 39 million daily active users globally during the first quarter. However, 23 million of those additions came from the Asia-Pacific region, where the company made a paltry $2.77 per user in ad revenue. While the company continues to eke out a good amount from its stagnating US and Canadian users, its biggest problem is that it makes a small amount in the region in which it's seeing the highest user base growth.