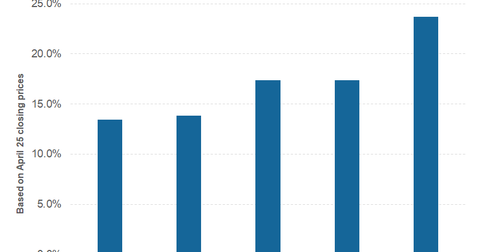 Don't Just Blame Berkshire's Size for Its Underperformance
By Mohit Oberoi, CFA

Updated
Underperformance
Berkshire Hathaway (BRK-B) has underperformed the S&P 500 Index (SPY) so far this year. Over the last decade, the company's performance has disappointed compared to the market's performance.
In an interview with the Financial Times, CEO Warren Buffett seemed to put the blame partly on Berkshire's massive size.
Article continues below advertisement
Size
Buffett said, "I think that if I was working with $1m or if Charlie [Munger, Berkshire's vice-chair] was working with $1m, we would have no trouble earning 50 per cent a year." According to the Financial Times, "Every working day, $100m rolls into Berkshire—cash from its subsidiaries, dividends from its shares, interest from its treasuries." Buffett also said in the interview that there are only about 100 publicly traded stocks in which Berkshire could invest.
Other factors
Berkshire's massive size is certainly a factor affecting its performance. However, there are a few other things we need to consider. US equity markets have become more efficient, making outperforming them tough. The flow of information has also vastly improved, which makes outperforming the markets even tougher.
Buffett's reluctance to invest in tech names has also affected Berkshire's performance. While Berkshire has invested in tech names such as Apple (AAPL), IBM (IBM), and Oracle (ORCL), Buffett has admitted to missing out on Amazon (AMZN) and Alphabet (GOOG).
Furthermore, over the last decade, some of Berkshire's investments, including General Electric (GE) and IBM, haven't performed too well.
To sum it up, a plethora of factors—not merely Berkshire's mammoth size—seem to have affected Berkshire's recent performance. Read Analyzing Warren Buffett's Investments in the 21st Century for more analysis.