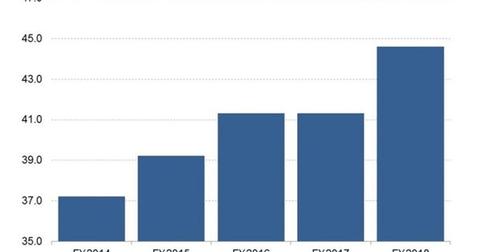 Disney+ Will Be Available for $6.99—Can It Lure Netflix's Users?
By Sanmit Amin

Updated
Disney+ launches on November 12
Media giant the Walt Disney Company's (DIS) first push into over-the-top video streaming services was ESPN+. With its acquisition of Fox's assets, Disney not only has a 60% stake in Hulu but also controls popular Indian streaming service Hotstar.
On Disney's investor day on April 11, the company announced that it would be launching its much-anticipated streaming service, Disney+, on November 12. It also said that the service would cost just $6.99 per month in the United States. The company will make the service available across North America, the Asia-Pacific region, Europe, and Latin America within the next two years.
Article continues below advertisement
Will Disney+ be able to compete with Netflix?
According to Disney, its streaming service will offer over 7,500 episodes of TV and 500 films—including those released in 2019—in its first year. Users will be able to download and watch all content offline if they wish to.
Disney is also working on a number of original TV shows for the service, including a variety of Marvel shows related to its Marvel films.
Disney's streaming service will be cheaper than Netflix's (NFLX) offerings. However, while increased competition could make a small dent in Netflix's business, the impact is not likely to be high for two reasons.
Firstly, Disney's genres are much different than Netflix's. The latter offers a variety of genres in its TV shows and movies, and its loyal fans are unlikely to leave.
Secondly, the increasing amount of subscription services out there is causing subscriber fatigue, which means that latecomers such as Disney have their work cut out for them.
Investors were impressed with Disney+. Disney stock rose over 10% within the first hours of trading on April 12, while Netflix stock fell over 2%.