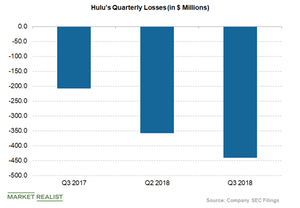 Comcast Might Sell Hulu Due to its Losses Expected Till 2024
Posting losses
Online streaming service provider Hulu has been posting losses for some time now. According to Comcast's (CMCSA) and 21st Century Fox's Securities and Exchange Commission filings in January, Hulu's annual losses might jumped significantly year-over-year in 2018 from $920 million to ~$1.5 billion due to original content investments to win more subscribers. Hulu lost ~$440 million in Q3 2018, compared with $207 million in Q3 2017 and $357 million in Q2 2018.
Majority stakeholder Walt Disney (DIS) expects Hulu to post losses of $1.5 billion in the current fiscal year, but to generate a profit in the United States by either 2023 or 2024.
Article continues below advertisement
Hulu's original content investments
Hulu reportedly spent ~$2.5 billion on content in both 2017 and 2018. In comparison, Netflix (NFLX) spent $3 billion on original content in 2014 and more than $8 billion in 2018, and Amazon (AMZN) spent ~$4 billion on content last year.
Hulu is making animated Marvel Studios series. Although AT&T has sold its stake in Hulu, it is expected to deliver content to be streamed on Hulu's platform.