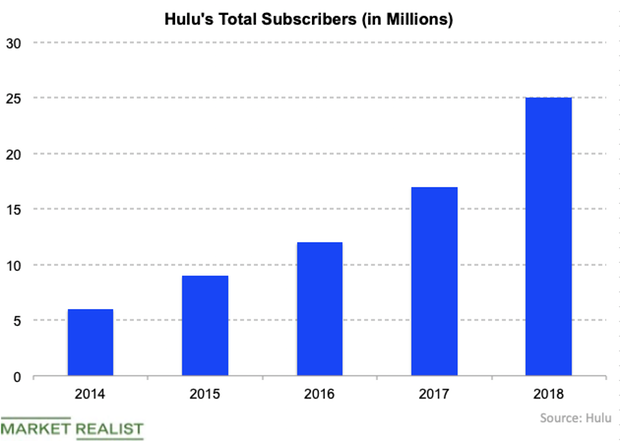 Comcast May Be Looking to Sell Its Stake in Hulu to Disney
By Sanmit Amin

Apr. 30 2019, Published 1:04 p.m. ET
Comcast is reportedly in talks with Disney to sell its stake in Disney
Comcast (CMCSA) may be looking to sell its 30% stake in Hulu to Disney (DIS), which could give the latter complete ownership of the video streaming service, according to a recent report by CNBC.
Disney's stake in Hulu has been growing. The acquisition of 21st Century Fox's assets gave Disney a 60% stake in Hulu. Earlier this month, AT&T's Time Warner sold its minority 9.5% stake in Hulu for $1.43 billion. This valued Hulu at $15 billion. Thus, Comcast's stake in Hulu would be worth ~$5 billion, assuming that AT&T's share was allocated according to the 2:1 stake between Disney and Comcast.
Article continues below advertisement
Hulu is seeing strong growth but is bleeding money
AT&T sold its stake in Hulu to pay down the mountain of debt it has after acquiring Time Warner. Comcast could use the proceeds from the sale of its stake in Hulu to do the same.
Hulu added an impressive 8 million subscribers last year, reaching a total of 25 million subscribers at the end of 2018. The company's ad revenue grew 45% in 2018 to almost $1.5 billion. However, Hulu lost $1.5 billion last year as it spent heavily to expand its original content. Hulu's unique mix of acquired content, original content, as well as live TV streaming helps it to differentiate itself from market leader Netflix.
Disney's stock has returned 29.8% in the past month after investors cheered the media giant's $6.99 per month video streaming service, which will be launched in November 2019. The stock rose nearly 2% on Friday, April 26, the day after the news surfaced.