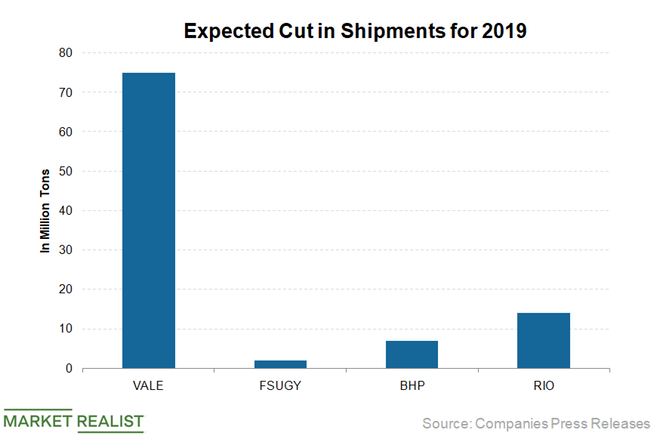 Cleveland-Cliffs' Upside: Vale's Dam Burst and Supply Disruptions
By Anuradha Garg

Apr. 24 2019, Published 8:57 a.m. ET
Vale's dam burst
On January 25, a major disaster struck Vale (VALE) when a dam ruptured at one of its mines in Brazil (EWZ). More than 300 people died when the dam ruptured. Since then, there have been several injunctions on the company. Vale announced that it will decommission all of the dams built by the upstream method. These developments will cause Vale to lose a major part of its production. During Vale's results for the fourth quarter of 2018, it estimated 75 million tons of lower volumes than previously expected in 2019.
Article continues below advertisement
Pellet premiums are soaring
During the fourth-quarter conference call, Lourenco Goncalves, Cleveland-Cliffs' CEO, said, "In my own calculation based on what I know about the Vale mines is to be at least double that." Vale expected the pellet volume losses to be 11 million tons.
As reported by S&P Global Platts, Ferrexpo said on April 23 that it expects the global iron ore pellet market to develop a shortfall of 5 million–10 million tons in 2019. Ferrexpo expects the shortfall due to disruptions in Brazil and the increasing global focus on reducing air emissions.
Realized pellet premiums have been soaring in 2019. The premiums are expected to remain at an elevated level for the rest of the year, which would have a positive impact on Cleveland-Cliffs' realized revenues.
Seaborne prices are gaining
In addition to pellets, seaborne iron ore prices have also been soaring since Vale's dam collapsed. During the fourth-quarter conference call, Goncalves said that the full impact of Vale's disaster will take time to be properly quantified. He expects seaborne iron ore prices and pellet premiums to increase.
BHP Billiton (BHP) and Rio Tinto (RIO), which are Vale's direct competitors in the seaborne iron ore market (XME), are also gaining due to increased seaborne iron ore prices as a result of the perceived and actual supply shortage going forward.