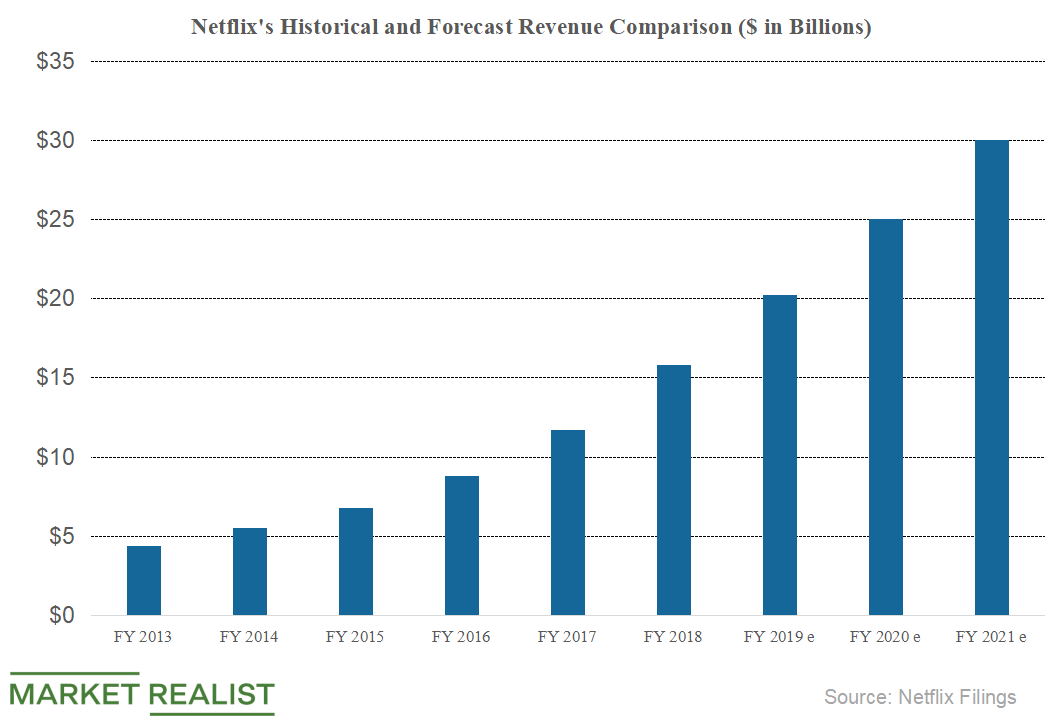 Can Netflix Target International Markets for Revenue Growth?
By Adam Rogers

Apr. 10 2019, Published 8:05 a.m. ET
Stock returns
The stock of online streaming giant Netflix (NFLX) is up over 36% in 2019. The stock is currently trading 58% above its 52-week low of $231.23 and 14% below its 52-week high of $423.21. Last year, Netflix gained 35%, easily outperforming peers and the broader indexes. In fact, the stock has generated absolute returns of a whopping 623% in the last five years.
Article continues below advertisement
Revenue growth estimated at 28% in 2019
Analysts expect Netflix's revenue to grow by 28% in fiscal 2019 to $20.22 billion and by 23.6% in 2020 to $25 billion. Sales are estimated to rise by 20% in 2021 to reach $30 billion.
Netflix needs to target international expansion to grow paying members, a key revenue driver. The company has successfully done so over the last few quarters. The online streaming market expansion in North America is close to saturation and Netflix needs to bank on overseas markets for sales growth.
In the fourth quarter of 2018, Netflix added 8.8 million paid members. The total number of paid members stands at 139 million, a rise of 29 million year-over-year. International growth contributed to the addition of 7.3 million members, while domestic markets added just 1.5 million.
In the first quarter of 2019, Netflix had estimated net additions of 8.9 million members, up from 8.3 million in the same period last year. Netflix will also have to contend with competition from Apple and Disney (DIS) in the online streaming space.