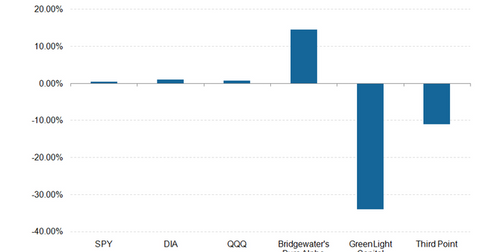 Can Daniel Loeb Bring Back Sony's Lost Glory?
By Anuradha Garg

Updated
Third Point: Sony should explore other options
Reuters reported that Third Point wants Sony (SNE) to explore options for some of its business units, including its movie studio, which Third Point believes has attracted a takeover interest from Amazon (AMZN) and Netflix (NFLX). Previously, Loeb had bought a stake in Sony in May 2013 and pushed for partially spinning off its entertainment units into a separate company. Loeb gradually lowered his stake after he was unsuccessful in persuading the company.
Article continues below advertisement
Changes at Nestlé
Third Point has been instrumental in bringing about changes at many companies. Currently, it's calling for changes at Nestlé (NSRGY), which it thinks has become complacent after years of success. In its latest investor letter, however, Third Point mentioned that the company is now repositioned for long-term success.
Campbell Soup
Third Point also has an activist stake in Campbell Soup (CPB). In 2018, Dan Loeb went after Campbell Soup's board for poor decisions. He was also lobbying to oust all 12 of its directors. Afterward, he settled for two board seats and a say in choosing CPB's next CEO. In its latest investor letter, Third Point stated that their dynamic with the company changed as soon as the proxy contest ended. The fund is now looking to the company to repair its balance sheet, execute an operational turnaround, and explore options to create value for shareholders.
The fund exited its positions in United Technologies (UTX), Alibaba (BABA), Microsoft (MSFT), and Netflix (NFLX) during the fourth quarter.
Check out How Dan Loeb Hopes to Improve Third Point's Performance in 2019 for more on his stake increases and disposals.