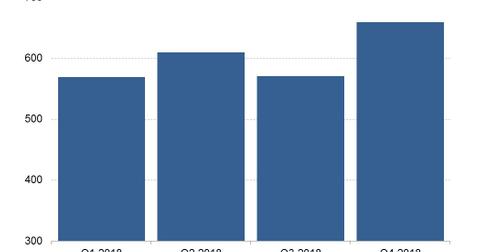 Baidu Sees AI Affecting the Smartphone Market
By Ruchi Gupta

Updated
Need for smartphones to decrease in an AI-driven world
Baidu (BIDU), China's top Internet search engine company and a leader in AI research, sees AI technology changing how people use their smartphones in the coming years. Baidu CEO Robin Li spoke at an Internet summit in China early this month and said that people would become less dependent on their handsets in an AI-driven world, according to a report from China Daily.
If Baidu's chief's prediction is accurate, then AI could spell trouble for handset makers that depend mostly on device sales for their revenues. Apple, one of the world's top smartphone companies, is working to develop its services business, as it has recorded weak iPhone device sales recently.
Article continues below advertisement
Baidu is looking to profit from AI
Baidu is a technology giant that wants to profit from an AI-driven world. Among its peers are Alphabet (GOOGL), Yandex (YNDX), Amazon (AMZN), and Alibaba (BABA). AI technology is at the heart of Waymo's and Yandex's autonomous driving programs, which include self-driving taxi services. Waymo is a unit of Alphabet.
On their parts, Amazon and Alibaba supply AI technologies ranging from smart speakers to the delivery of product recommendations to shoppers on their marketplaces.
In addition to developing self-driving vehicles, Baidu makes smart speakers and uses AI technology to deliver targeted advertisements.
Baidu spends nearly 18% of its revenue on AI research
Baidu spent $659 million on research and development in the fourth quarter, representing 17.5% of the total revenue it generated in the period. Baidu's research budget is spent almost entirely on AI-related research.