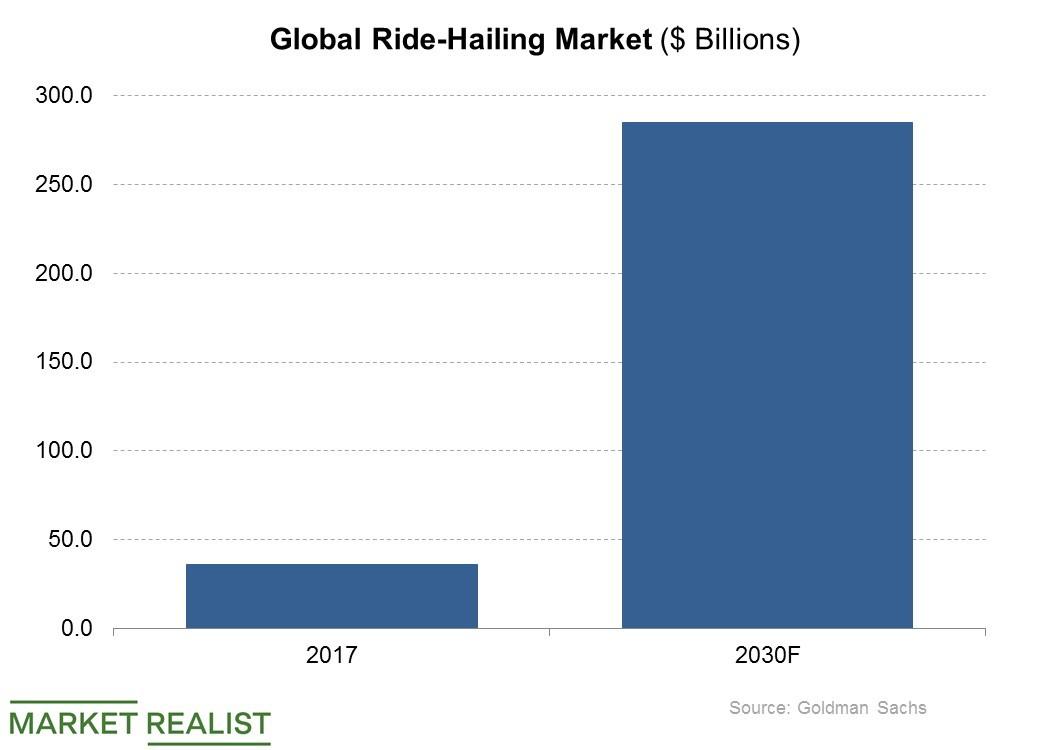 Baidu Is About to Diversify into This $280 Billion Industry
By Ruchi Gupta

Apr. 10 2019, Published 8:52 a.m. ET
Baidu's self-driving taxi service is launching in 2019
Baidu (BIDU) will launch its self-driving taxi service in China before the end of 2019, according to a report from Xinhua News Agency. The move will see Baidu join Alphabet's (GOOGL) Waymo and Yandex (YNDX) in pursuit of revenue in the rapidly expanding ride-hailing industry.
The global ride-hailing market was valued at ~$36 billion in 2017 and is expected to expand quickly in the next few years to reach $285 billion by 2030, according to Goldman Sachs estimates. The launch and uptake of self-driving taxi services are expected to support the rapid growth in the ride-hailing market.
Article continues below advertisement
Baidu to initially deploy 100 autonomous taxis
China's struggle with traffic congestion problems could prove a blessing for Baidu's self-driving taxi business. The benefits expected from the shift to autonomous driving include improvements in road safety and a reduction in traffic jams in major cities.
Baidu is expected to initially deploy 100 autonomous vehicles for its self-driving taxi service in Changsha, a city in the Chinese province of Hunan. Last year, Baidu teamed up with Ford Motor Company (F) and Volvo on autonomous driving programs. On its own, Ford is testing self-driving vehicles in the United States. General Motors (GM) is also developing self-driving vehicles. In their efforts to create new revenue sources outside vehicle sales, Ford and GM are also eyeing the self-driving taxi market.
Baidu is seeking diversification
As Baidu currently relies on advertising for the majority of its revenue, its entering into the taxi business could help it to further diversify its operations and revenue sources.