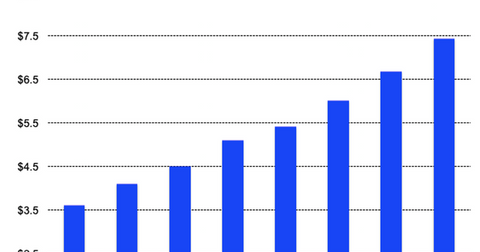 Apple Is Heavily Reliant on Amazon Web Services
By Sanmit Amin

Updated
Apple spends over $30 million per month on AWS
Tech giants are increasingly seeing their businesses overlapping. Apple (AAPL) and Amazon (AMZN), for example, which had completely different core businesses for years, have recently been competing against one another in several sectors, including music streaming, device streaming, smart speakers, and (soon) video streaming services.
Article continues below advertisement
AWS continues to see tremendous growth
Apple has previously mentioned that it uses Amazon's AWS (Amazon Web Services) for its iCloud storage. It could also be using Amazon's cloud service for some of its other services.
According to CNBC, this expenditure is likely to continue for the foreseeable future. According to the report, Apple has signed an agreement committing to spending a minimum of $1.5 billion on AWS over the next five years.
Many other companies are also heavily reliant on Amazon's cloud service. According to CNBC, Lyft has an agreement worth over $300 million with AWS to power its service until the end of 2021.
AWS continues to grow quickly despite its size. An unsatisfied need for processing and storage means that AWS still has room to grow. Amazon's lucrative AWS business allows it to pursue aggressive pricing in its core e-commerce business.