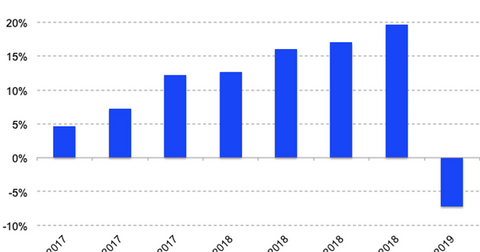 Apple Is Again the World's Biggest Company by Market Cap
By Sanmit Amin

Updated
Apple now has a market cap of nearly $923 billion
Apple's stock has been on a tear this year, surging 25.3% YTD. The stock is now trading at $195.7, meaning it has a market cap of $922.7 billion. The iPhone maker has now returned to the top spot in terms of the most valuable public company in terms of market cap. Microsoft (MSFT) is now in the second spot with a market cap of $915.8 billion.
The recent push in the stock came after Apple (AAPL) announced that it is launching a slew of new services including its own video streaming service, a gaming platform, and a news subscription service. These subscriptions will certainly boost Apple's revenue in the long term. However, in the short term at least, Apple's biggest headache is its shrinking core business. It will be interesting to see how the company's iPhone business performed during the March quarter when Apple announces its second quarter of 2019 results later this month.
WAKE UP WITH BAGELS & STOX, OUR NEW EMAIL THAT ENTERTAINS AND INFORMS YOU BEFORE THE DAY STARTS. SIGN UP HERE!
Article continues below advertisement
Apple's core business could continue to struggle for a while
Most analysts think that smartphone shipments will see a positive bump when 5G technology goes mainstream. The likes of Samsung (SSNLF) and Huawei have already launched their respective 5G-compatible smartphones. Apple's legal battle with Qualcomm, an advanced player in the 5G modem market, means that Apple is struggling to keep up with its rivals. Some analysts feel Apple may not be able to launch its 5G iPhone even next year.
Meanwhile, the lengthening upgrade cycle of customers and the ever-increasing prices of iPhones mean that Apple's iPhone problems may be here to stay for a bit. It will likely take the next big leap in innovation to cause a positive outcome for iPhones.
However, it is foolish to write off Apple. The company, which has an unparalleled balance sheet, has historically evolved itself to not just keep up with the world, but even pioneer technology, which is why it is the world's biggest company by market cap.