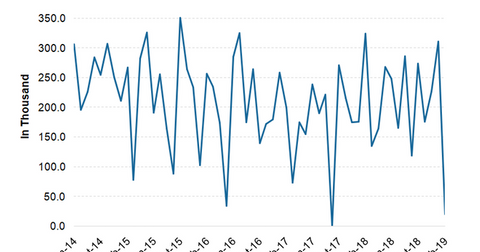 Another US Jobs Disappointment Could Fuel Slowdown Fears
By Anuradha Garg

Updated
Unemployment rate and wage growth
In February's job report, while job additions came in substantially weaker than the economists' expectations of 180,000 at just 20,000, the wage growth and unemployment rate came in strong. The unemployment rate came in stronger at 3.8% as compared to consensus expectations of 3.9% after January's 4.0%. The wage growth was also strong with 3.4% YoY growth in February, the strongest in the last ten years.
WAKE UP WITH BAGELS & STOX, OUR NEW EMAIL THAT ENTERTAINS AND INFORMS YOU BEFORE THE DAY STARTS. SIGN UP HERE!
Article continues below advertisement
Concerns of a slowdown
While the other numbers were strong, if the job additions data disappoints markets this month as well, markets (SPY) (DIA) may also be concerned about an increasing unemployment rate going forward. Automatic Data Processing reported yesterday that private companies added 129,000 jobs in March, lower than the forecast of 170,000, which could mean a miss in numbers in the government report as well.
Back-to-back job addition misses could reignite recession fears in the market. Investors should recall that on March 22, the US Treasury Yield curve (TLT) (BND) inverted as the ten-year yield fell below the three-month yield for the first time since 2007. The weaker-than-expected Eurozone (HEDJ) (EZU) data and the Fed's dovish stance were mainly responsible for investors' flight to safety, which inverted the yield curve.
Fed's rate hike expectations take a back seat
Concerns that the Fed could take cues from the jobs report have minimized. During its policy meeting in March, the Fed signaled no hikes for 2019. Even stronger-than-expected jobs data is not expected to trigger a more hawkish Fed stance at least in the short term.