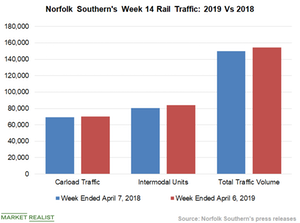 Analyzing Norfolk Southern's Rail Traffic Performance in Week 14
Rail traffic improved
Norfolk Southern's (NSC) rail freight traffic grew 3% YoY in Week 14 to 154,293 railcars from 149,798 railcars. In Week 14, rail traffic improved for all Class I railroad companies except BNSF Railway, which reported a decline of 6.7%.
Norfolk Southern was the third-highest volume gainer among Class I railroad companies after Canadian Pacific Railway (CP) and Canadian National Railway (CNI), which registered increases of 5.6% and 5%, respectively.
Article continues below advertisement
Norfolk Southern's rail traffic grew mainly due to a 4.4% increase in its intermodal volumes. The company carried 84,183 containers and trailers in Week 14 compared to 80,651 in the same week of the previous year. Its container traffic rose 6.1% YoY to 77,017 units from 72,567 units, whereas its trailer volumes fell 11.4% YoY to 7,166 units from 8,084 units.
Five of the seven Class I railroad companies (XLI) recorded higher intermodal volumes in Week 14, while three registered YoY declines. Among Class I railroad companies, Canadian National Railway's intermodal gains of 7.6% were the highest, whereas CSX (CSX) reported the steepest decline of 5.7%.
Carload traffic
Norfolk Southern's carload traffic rose 1.4% to 70,110 railcars from 69,147 railcars in Week 14. Carload traffic excluding coke and coal increased 2.6% YoY to 49,907 units from 48,643 units, while coal and coke volumes fell 1.5% YoY to 20,203 units from 20,504 units.
Norfolk Southern's crushed stone, grain mill, metallic ore, nonmetallic minerals, pulp, paper, and petroleum products volumes fell, while its chemicals, grain, food, iron, metals, forest, and motor vehicles and equipment volumes rose.
Among the seven Class I railroad companies, Canadian Pacific Railway recorded the highest carload traffic growth of 9.9%, while BNSF Railway reported the steepest volume decline of 8.6%.
In the first 14 weeks of this year, Norfolk Southern's cumulative carload volumes fell 1.6% to 914,150 railcars, while its intermodal units rose 2.4% YoY to ~1.16 million containers and trailers. The company's combined rail traffic rose 0.6% YoY to ~2.08 million carloads and intermodal units.