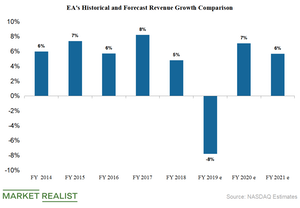 Analyzing Electronic Arts' Financial Metrics
By Adam Rogers

Apr. 24 2019, Updated 1:14 p.m. ET
Cash and debt
Electronic Arts (EA) ended the third quarter with a cash balance of $5.16 billion. The company has a debt of $994 million. Electronic Arts' debt-to-net worth ratio is 18.6%, which is lower than 28.6% in 2014.
EA's operating cash flow has risen from $1.17 billion in 2015 to $1.69 billion in 2018. The operating cash flow is expected to be $1.350 billion in 2019. The operating cash flow-to-debt ratio is 136%, which indicates that the firm has enough cash to meet its debt and interest obligations.
Electronic Arts has managed to improve shareholder returns over the last five years by increasing sales and expanding the bottom line.
Article continues below advertisement
EBITDA
Electronic Arts' EBITDA has risen from $1.5 billion in fiscal 2016 to $1.853 billion in fiscal 2018. Analysts expect the EBITDA to be $1.52 billion in 2019, $1.71 billion in 2020, and $1.89 billion in 2021.
Lower sales in a growing market
Although Electronic Arts' financial statements look solid, analysts expect the company's sales to fall 7% this fiscal year. The company will likely have a negative sales growth year. The global gaming market is expected to grow by double digits.
Earlier this year, Electronic Arts announced that it would lay-off 350 employees in order to adapt to an evolving market. Electronic Arts and its peers have been impacted by the intense competition that hit sales, which will likely continue in the near future.
The gaming industry is changing constantly. Electronic Arts will be wary about disruptors in this space. The company will need to use its cash balance wisely to decide between investing in capital expenditure, improving shareholder value, or growth through acquisitions.