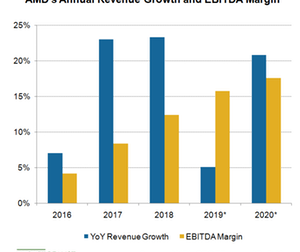 Analysts Are Bullish on AMD's 2020 Earnings
By Puja Tayal

Updated
Earnings driver
Advanced Micro Devices (AMD) was the best performing semiconductor stock in 2018. Advanced Micro Devices is still among the top performing semiconductor stocks in 2019. The stock is growing following Intel's (INTC) headwinds, Advanced Micro Device's rising market share, and its high earnings growth rate.
Article continues below advertisement
In the last three years, Advanced Micro Devices' revenues grew at an average annual rate of 18% from $4.27 billion in 2016 to $6.5 billion in 2018. The revenues were driven by the introduction of Advanced Micro Devices' Ryzen and EPYC CPUs and Radeon GPUs. These three products offered better price-to-performance than Intel and NVIDIA's (NVDA) products.
Advanced Micro Devices also improved its EBITDA margin from 4.14% in 2016 to 12.4% in 2018 by increasing volume sales, reducing costs, and improving the product mix.
Earnings outlook
Overall, 2019 will likely be slow for Advanced Micro Devices and the entire semiconductor industry. Macroeconomic headwinds slow end-consumer demand. Advanced Micro Devices is expected to see V-shaped growth with significant declines in the first half of the year and significant growth in the second half of the year. The growth will likely be driven by new product launches and holiday season sales.
Advanced Micro Devices will launch its complete suite of 7nm (nanometer) products through 2019. The benefits of the 7nm products will be seen in 2020 when the demand revives. The 7nm products will likely help AMD deliver products that have better performance than Intel. Higher demand and a technological advantage should help Advanced Micro Devices increase its average selling prices and margins. For fiscal 2020, analysts expect Advanced Micro Devices' revenues to grow 20.8% year-over-year. The company's EBITDA margin is expected to reach 17.56%.