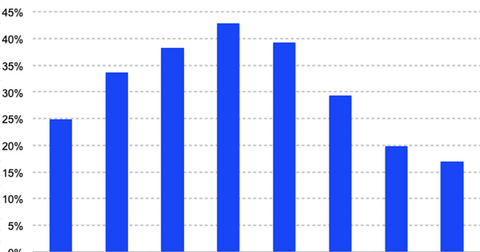 Amazon Spent $1.7 Billion on Music and Content Costs in Q1
By Sanmit Amin

Updated
Amazon is ramping up its original content
Amazon (AMZN) doesn't reveal how much it spends on producing its own content. However, Variety reports that the e-commerce giant reported in a filing that it had spent an aggregate of $1.7 billion in the first quarter of 2019 on "video and music," a 13.3% YoY (year-over-year) increase from $1.5 billion.
The company explained that the video and music expenses included licensing and production costs related to content offered through its Prime memberships, and expenses related to digital subscriptions and sold and rented content.
While Amazon has not disclosed how much it spent on producing original content, we have some idea now. The company's total music and video streaming expenses hit a run rate of $6.8 billion annually.
Article continues below advertisement
Amazon's Prime membership is growing quickly
Meanwhile, Amazon's biggest competitor in the video streaming space, Netflix (NFLX), is expected to spend close to $15 billion on acquired and original content this year.
Amazon has been increasing benefits available to its Prime members, who have access to all of its video and music content without additional costs. Amazon's video streaming service places second after Netflix in the United States.
Amazon's fast-growing subscription revenue is a testimony to the fact that its Prime membership is getting more compelling. However, for now, the company's total revenue growth is decelerating.