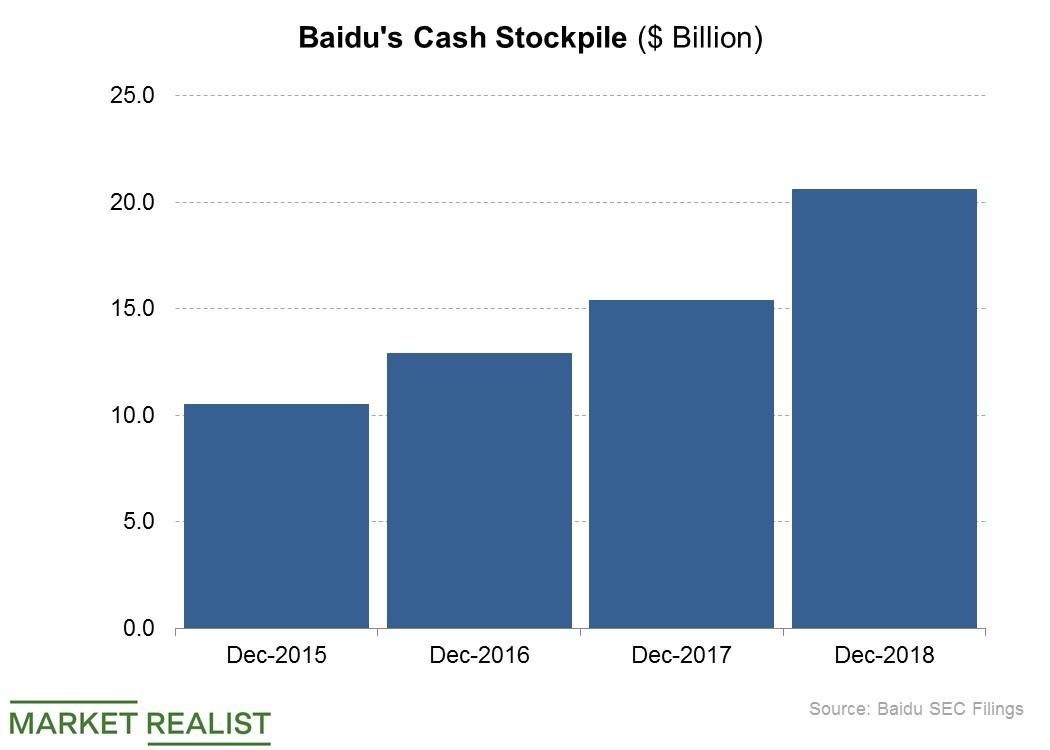 Will Baidu Expand Its Stock Repurchase Program?
By Neha Gupta

Dec. 4 2020, Updated 10:42 a.m. ET
Baidu's bank account has grown
In June last year, Baidu (BIDU) launched a stock repurchase program under which it planned to return as much as $1.0 billion to its shareholders in one year. At the end of September, Baidu had returned $487 million to shareholders, leaving it with $513 million in its current repurchase authorization.
At the time Baidu announced its $1.0 billion repurchase program last year, the company was sitting on a $19.4 billion cash stockpile. Baidu's cash stockpile dipped to $15.2 billion in September, but is back up again. Baidu exited December with a $20.6 billion cash stockpile.
Article continues below advertisement
Chinese tech giants seeking to keep investor confidence
Amid worries about an economic slowdown in China, several large Internet companies in the country have announced stock repurchase programs in apparent attempts to shore up their stock prices and retain investor confidence. Tencent (TCEHY), for instance, is planning to repurchase as much as 10% of its outstanding shares, a program that will put back billions of dollars in the pockets of its shareholders. Alibaba (BABA) is underway with a program to repurchase up to $6.0 billion of its stock.
Stock repurchase viewed as investment
Outside China, a number of companies in Baidu's industry with fat or fattening bank accounts have boosted their stock repurchase programs in recent months. In December, Facebook (FB) announced an addition of $9.0 billion to its existing repurchase program. Facebook exited December with a $41.1 billion cash stockpile, steady from September. eBay (EBAY) added $4.0 billion. The company exited December with $8.6 billion in cash. Google parent Alphabet (GOOGL) has lined up a large repurchase program of $8.6 billion. Alphabet exited December with $109 billion in cash, up from $101 billion in September.
Companies view stock repurchases as an investment. Stock repurchases can lead to a boost in stock prices and higher EPS without an actual increase in profits.