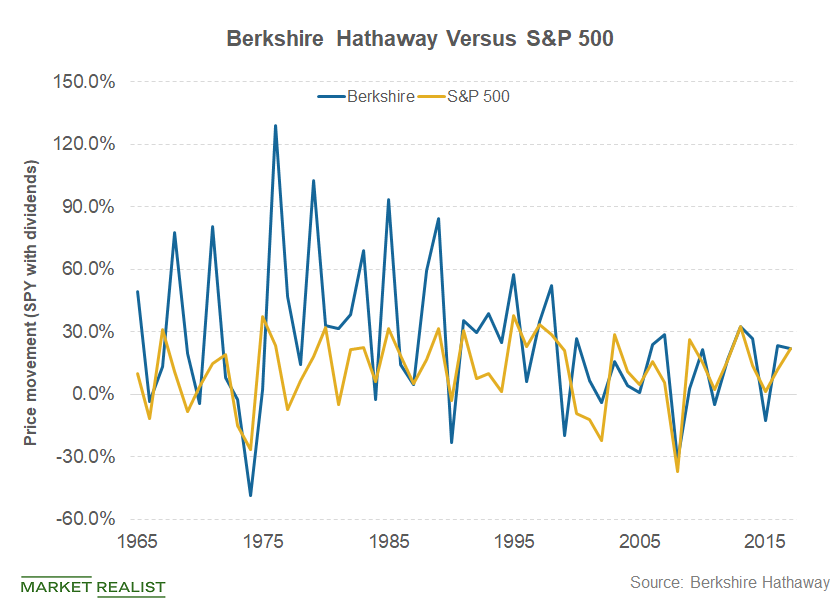 Why Warren Buffett Abandoned an Age-Old Practice This Year
By Mohit Oberoi, CFA

Mar. 4 2019, Updated 2:45 p.m. ET
Warren Buffett
In his 2018 shareholder letter, Berkshire Hathaway (BRK-B) chair Warren Buffett said, "For nearly three decades, the initial paragraph featured the percentage change in Berkshire's per-share book value. It's now time to abandon that practice." Buffett highlighted three reasons for this change.
Article continues below advertisement
Three reasons
First of all, Buffett said that Berkshire Hathaway has "gradually morphed from a company whose assets are concentrated in marketable stocks into one whose major value resides in operating businesses." However, its portfolio of publicly traded securities is still sizeable. Apple (AAPL), Coca-Cola (KO), Kraft Heinz (KHC), Wells Fargo (WFC), J.P. Morgan Chase (JPM), Goldman Sachs (GS), American Express (AXP), and Bank of America (BAC) are among Berkshire's biggest holdings. In the fourth quarter, Berkshire exited Oracle (ORCL) and bought Red Hat (RHT) (IBM) and Suncor (SU).
The second reason that Buffett offered was that Berkshire's portfolio of operating companies is valued at "an amount far below their current value" so that makes Berkshire's book value somewhat redundant to investors (SPY).
Share buybacks
Finally, Buffett said, "it is likely that – over time – Berkshire will be a significant repurchaser of its shares, transactions that will take place at prices above book value but below our estimate of intrinsic value." Berkshire repurchased its shares in the third and the fourth quarters. Buffett's views on share buybacks have also evolved. We'll discuss this aspect in detail in the next article.