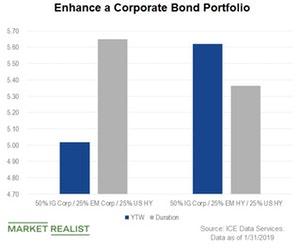 What Prospects Do Emerging Bond Markets Bring in 2019?
By VanEck

Updated
VanEck
Examining Corporate Bond Benchmarks
Emerging markets bonds that are rated investment grade, issued in U.S. dollars and in the U.S. market, are generally eligible for inclusion in broad U.S. corporate bond benchmarks, assuming that they also meet other index criteria such as minimum amount outstanding. The result is that about 35% of the emerging markets corporate bond benchmark is also included in the U.S. corporate bond benchmark.1 Investors may have more exposure to certain emerging markets issuers than intended, and may not be fully taking advantage of the benefits that emerging markets high yield bonds may offer.
Article continues below advertisement
In contrast to investment grade rated bonds, emerging markets high yield corporate bonds are not eligible for inclusion in a broad U.S. high yield index such as the ICE BofAML US High Yield Index, so there is virtually no overlap in terms of issuers or individual bonds.2 From a diversification standpoint, this is reflected in a lower correlation to U.S. investment-grade corporate bonds and to core bonds versus broad emerging markets corporate bonds.3 Further, using emerging markets high yield bonds rather than an all-rating exposure provided a higher yield, with less interest rate risk.
Market Realist
Advantages of EM corporate bonds
As we discussed in the previous part, EM (emerging markets) corporate bonds (HYEM) fared better in 2018 than EM sovereign and EM local bonds, as the above chart shows. In a research paper titled "Emerging Market Fixed Income–2019 Outlook," UBP discusses that EM's corporate investment-grade bonds, in particular, outperformed the EM sovereign bonds because of shorter duration.
Emerging market corporate bonds (HYEM) are a well-diversified asset class that not only offers attractive yields but are of high quality and low duration. EM corporate bonds also provide a higher spread to compensate for emerging market risk, and they also carry a low rate of default.