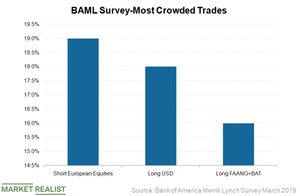 This Is Fund Managers' Most Crowded Trade in March
By Anuradha Garg

Updated
Most crowded trade
As with the biggest tail risk, the latest Bank of America Merrill Lynch Survey resulted in a new "most crowded trade" response as well.
For the first time in the history of the survey, short European equities (HEDJ) were listed as the most crowded trade for March, cited by 19% of the survey's respondents.
Brexit uncertainty, slowdowns, and other issues in many European countries have made investors wary of the region.
Last month, long emerging markets (EEM) were the most crowded trade, but they dropped to fourth place this month. After a terrible year for emerging markets in 2018, this year is turning out quite well for them.
Article continues below advertisement
Contrarian indicator
Investors should, however, take the information from the survey with a grain of salt. Usually, at the extremes, these trends work as contrarian indicators.
Extreme bearish sentiments usually indicate a trough followed by incoming bullishness, and vice versa. The popularity of the so-called FAANG and BAT stocks—US stocks Facebook (FB), Apple (AAPL), Amazon (AMZN), Netflix (NFLX), and Google (GOOGL) and Chinese stocks Baidu (BIDU), Alibaba (BABA), and Tencent (TCEHY)—is the most recent case in point. This trade dominated the most crowded trade list for most of 2018 but fell hard in the last quarter of 2018. Thus, according to contrarian trade, the sentiment for Europe, one of the most ignored markets, might be about to turn around.
Goldman Sachs (GS) and Morgan Stanley (MS) have turned bullish on Europe recently. According to Bloomberg, GS thinks that based on Euro-area numbers, the slowdown may have bottomed out. Morgan Stanley analyst Graham Secker also believes that many of the idiosyncratic issues seen in the area in 2018 are starting to fade.
Other most crowded trades
Closely following short European stocks was the long US dollar (UUP), which was cited by 18% of the survey's respondents. The attractiveness of tech equities has been fading. Over the past few months, tech stocks (QQQ) have disappointed the markets (SPY). Investors cited FAANG and BAT stocks as the third most crowded trade.