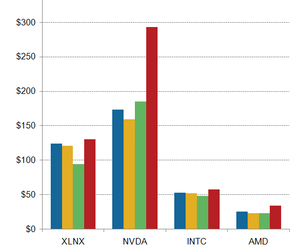 Technical Analysis: Xilinx's Stock in a Strong Uptrend
By Puja Tayal

Updated
Xilinx's stock volatility
XLNX (XLNX) is one of the fastest-growing semiconductor stocks of 2019 and is beating Advanced Micro Devices (AMD) in capital gains. Like NVIDIA (NVDA), Xilinx gives investors exposure to the data center and automotive opportunities. However, Xilinx is less volatile with a beta of 1.25 as compared to AMD's and NVIDIA's betas of 4.09 and 2.29. Beta is a measure of volatility where the market has volatility of one, and a beta greater than one indicates higher volatility than the market.
Technical analysis looks at the stock price to find a regular pattern in the price movement and see when the pattern is repeated to estimate future movement. It also looks at the trading volume to gauge the intensity of investors' sentiments.
Article continues below advertisement
Moving averages
The MA (moving averages) takes the average of a stock's prices over a certain period to understand in which direction its movement is skewed. When the short-term MA is higher than the long-term MA, it shows technical strength.
Stocks of Xilinx, Intel (INTC), and AMD are in an uptrend as they are trading above their 50-day MA, which is greater than their 200-day MA. XLNX and INTC are trading close to their 52-week highs. On the other hand, NVIDIA is showing signs of technical weakness, as it is trading below its 200-day MA, which is higher than its 50-day MA. To understand if XLNX's and INTC's stock uptrend is just an overreaction or here to stay, we'll look at their RSI (relative strength index).
RSI
The RSI measures the intensity of investor sentiment on a scale of zero to 100. An RSI of less than 30 indicates that the stock is oversold and above 70 indicates that the stock is overbought.
Xilinx and Intel have an RSI of around 50, which indicates that the trading volume is normal. This shows that their current stock prices, which are close to their 52-week highs, are their new normal and are likely here to stay for some time unless there is major news. In the last one year, XLNX was oversold in three instances when the company reported its last three quarterly earnings results.
We expect this trend to continue in the next fiscal 2019 fourth-quarter earnings, which are expected on April 24.
Check out all the data we have added to our quote pages. Now you can get a valuation snapshot, earnings and revenue estimates, and historical data as well as dividend info. Take a look!