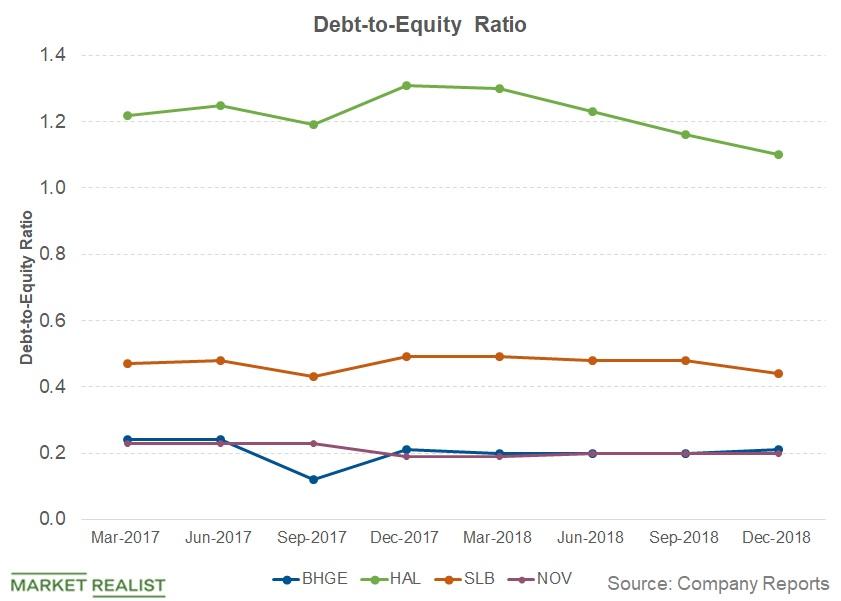 SLB, HAL, BHGE, and NOV: Comparing the Leverage
By Rekha Khandelwal, CFA

Mar. 25 2019, Published 11:15 a.m. ET
Debt-to-equity ratios
Halliburton's (HAL) debt-to-equity ratio is 1.1x—high compared to its peers. Baker Hughes (BHGE), Schlumberger (SLB), and National Oilwell Varco (NOV) have debt-to-equity ratios of 0.2x, 0.4x, and 0.2x, respectively. Their ratios remained relatively low and stable over two years.
As the above graph shows, Halliburton's ratio has been on a downward trend over the last four quarters. Overall, the debt-to-equity levels for the four companies can be considered conservative.
Halliburton had total long-term debt of $10.5 billion. Schlumberger had a debt of $14.6 billion at the end of 2018. National Oilwell Varco's total debt was $2.7 billion, while Baker Hughes' debt was $6.3 billion at the end of 2018.
Article continues below advertisement
Debt-to-EBITDA ratios
For 2018, Halliburton and Schlumberger's net debt-to-EBITDA ratios were ~2.0x. Baker Hughes's net debt-to-EBITDA ratio was 0.9x, while National Oilwell Varco's ratio was ~1.4x. In 2018, Halliburton repurchased ~10.5 million of its common shares for $400 million.
Together, Halliburton, Baker Hughes, Schlumberger, and National Oilwell Varco form ~44% of the VanEck Vectors Oil Services ETF (OIH).
To learn what institutional investors did with their holdings, read Schlumberger: Top Institutional Investors Increased Their Holdings.