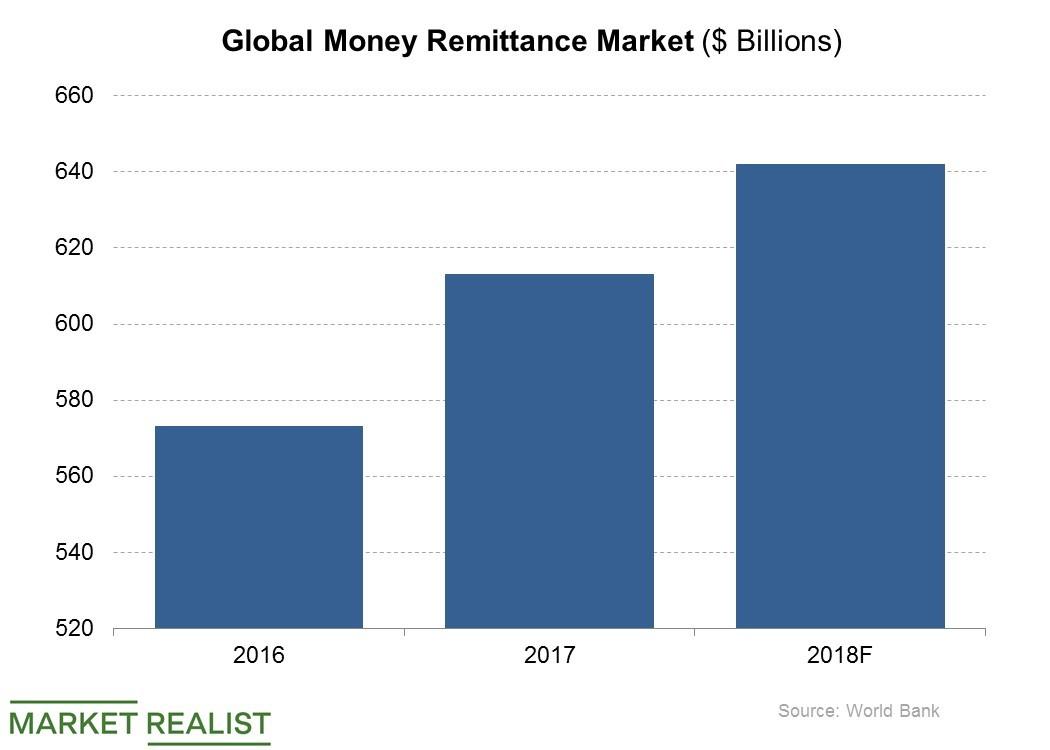 PayPal Isn't Done Disrupting Western Union and MoneyGram
By Neha Gupta

Mar. 14 2019, Published 1:45 p.m. ET
Xoom global transfer limit raised to $50,000
Early this month, in a challenge to Western Union (WU) and MoneyGram (MGI), PayPal (PYPL) raised the upper limit of the amount customers can send through its global remittance service, Xoom. With the changes, Xoom customers can now send up to $50,000 in a single transaction from the United States to over 30 countries, the company said in a statement. Previously, Xoom customers could only transfer a maximum of $25,000 in a single transaction from the United States.
Article continues below advertisement
By raising Xoom's transfer limits, PayPal will be able to accommodate a broader base of remittance customers. At the end of the day, the company hopes this move will allow it to take customers from Western Union and MoneyGram, which currently dominate the global remittance market. The global remittance market was worth $642 billion in 2018, according to World Bank data.
Xoom launched in Canada
Last year, in its ongoing challenge to traditional remittance providers Western Union and MoneyGram, PayPal launched Xoom in Canada, allowing people there to send money to more than 130 countries. Canada is home to over 7.5 million foreign residents, making it an ideal market for PayPal's Xoom international money transfer service.
Faced with disruptions from digital rivals such as PayPal, MoneyGram has explored selling itself. In 2017, the company agreed to be bought by Alibaba (BABA) affiliate Ant Financial, but the White House blocked the deal due to national security concerns. MoneyGram also drew buyout interest from Euronet Worldwide (EEFT).