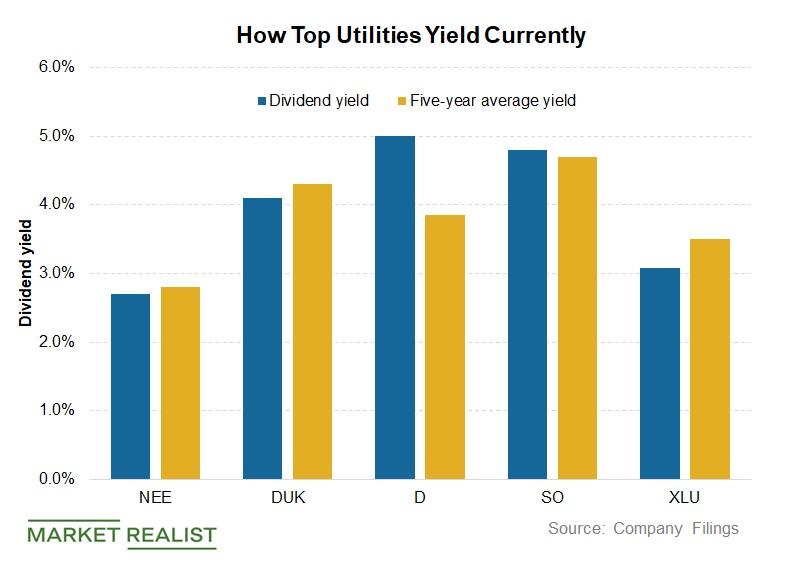 NEE, DUK, SO, and D: Comparing the Utility Bigwigs' Dividends
By Vineet Kulkarni

Mar. 4 2019, Published 2:59 p.m. ET
Dividend yield
Dominion Energy (D) leads the top utilities in terms of dividend yields. It offers a yield of 5.0% at the moment. The high yield indicates a yield premium of ~220 basis points compared to the ten-year Treasury yield and more than 300 basis points compared to the broader markets. Dominion Energy stock is trading at a yield higher than its five-year average yield.
Regulated utility stocks Southern Company (SO) and Duke Energy (DUK) yield 4.8% and 4.1%, respectively. The biggest utility by market cap, NextEra Energy (NEE), currently yields 2.7%—way below broader utilities' (XLU) average yield of 3.2%.
Article continues below advertisement
Superior dividend growth
Despite the lower yield, NextEra Energy's dividend profile looks attractive due to its strong dividend growth. Over the last five years, NextEra Energy had a dividend growth of ~11% compounded annually—more than double than utilities' average.
Dominion Energy also stands tall in terms of dividend growth. It raised its dividend ~8% compounded annually in the same period. NextEra Energy and Dominion Energy's superior earnings growth over the last few years facilitated above-average dividend growth.
Duke Energy and Southern Company both generate most of their earnings from regulated operations. Regulated operations facilitate stable and predictable earnings, which ultimately bode well for stable dividends. However, both exhibited historical dividend growth around 3% over the last five years—lower than the industry average.