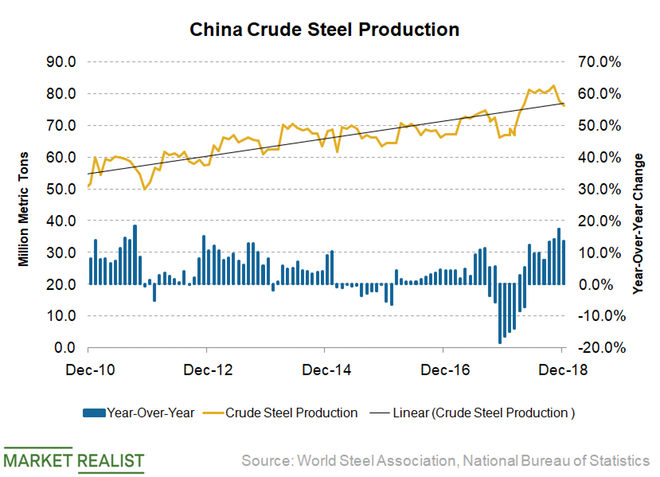 Moody's Downgrade and Potential Fines Weaken Vale's Outlook
By Anuradha Garg

Mar. 5 2019, Updated 9:40 a.m. ET
Huge fine awaits Vale
The Wall Street Journal reported on March 1 that Vale (VALE) could face $7 billion worth of fines in connection with the audit of the mining dam that collapsed. The Wall Street Journal also cited a person close to the investigation as saying that the fine could reach 20% of Vale's 2018 revenues if it is convicted under the Brazilian anti-corruption law.
Article continues below advertisement
Moody's cut Vale's rating
On February 27, credit rating agency Moody's also downgraded Vale's credit rating to junk status with a negative outlook. The current review was undertaken by Moody's on January 29 after the dam collapse on January 25. Moody's said, "Vale's downgrade to Ba1 reflects heightened credit risk after its January 25 tailings dam collapse at Brumadinho and the considerable uncertainties associated with the full impact and long-term implications of this labor and environmental disaster for Vale's overall credit profile."
Moody's negative outlook on Vale
Moody's negative outlook includes "uncertainties around the amount and timing of future cash outlays related to the accident. Moreover, it also reflects the risks of ongoing investigations about the cause of the accident and responsibilities."
Investors should expect more pressure on Vale stock at least in the short term. The effects of the disaster and the ensuing restrictions have caused iron ore prices to surge. Vale's peers (XME) BHP Billiton (BHP), Rio Tinto (RIO), and Cleveland-Cliffs (CLF) are rising due to the perceived impact on iron ore production and the resultant higher iron ore prices.