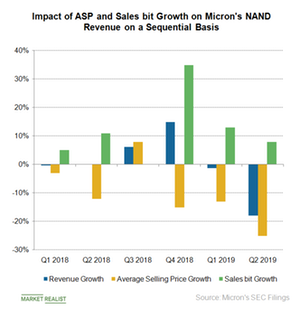 Micron's NAND Earnings Benefit from a Richer Product Mix
By Puja Tayal

Mar. 26 2019, Published 1:32 p.m. ET
Micron's NAND strategy
Micron Technology's (MU) core business is DRAM (dynamic random-access memory). However, the company has been increasingly focusing on transitioning its NAND (negative-AND) portfolio from commodity NAND products to high-value NAND solutions. 
The company has cost leadership in terms of 3D NAND technology and is a market leader in SATA (Serial Advanced Technology Attachment) SSDs (solid-state drive).
Article continues below advertisement
Micron's NAND earnings
In the second quarter of fiscal 2019, Micron earned 30% of its revenue from NAND. Its NAND revenue fell 2% YoY (year-over-year) and 18% sequentially to $1.8 billion as a ~25% sequential decline in its NAND ASP triggered a NAND sales volume rise of 7%–9%. NAND demand is sensitive to price—when the price falls, demand rises. Citing industry sources, DigiTimes stated that Samsung (SSNLF) had significantly reduced its NAND price to reduce excess industry inventory by March's end or early April.
Micron's NAND business has benefited from a rich product mix, with high-value solutions contributing more than 66% to its NAND revenue in the first half of fiscal 2019, up from 55% last year. A richer mix helped the company maintain a NAND gross margin in the high 30s despite steep declines in NAND industry prices. Micron is transitioning from SATA SSDs to nonvolatile memory SSDs, which will reduce its NAND revenue in 2019.
Article continues below advertisement
Micron's NAND industry outlook
Micron lowered its NAND industry demand growth rate for 2019 to 35% from 40%–45%. To keep supply in line with demand, the company is reducing its NAND capacity by 5%. It expects NAND industry supply bit growth to be in the high 30s. Micron expects the NAND oversupply situation to continue through 2019. For this reason, it's limiting the use of its new replacement gate technology to specific NAND products.
Micron expects the NAND market to reverse in 2020, with demand outpacing supply. At that time, it will build its other NAND products on the capital-intensive replacement gate technology. Micron and Intel (INTC) jointly developed 3D XPoint technology, but now they're developing 3D XPoint–based products separately as per their individual requirements. Micron is on track to start sampling its 3D XPoint–based products by the end of 2019. If these products prove to be a hit, Micron will have a technological edge over its competitors.