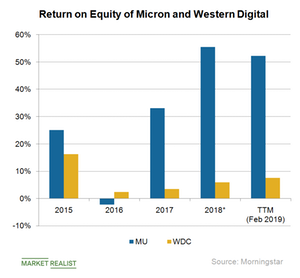 Micron's Efficiency Ratios Are Set to Fall in 2019
Micron's efficiency ratios
Micron Technology (MU) is exposed to the memory industry's cyclicality. Because the company cannot control cyclicality, it has improved its financial position over the years to withstand downturns more efficiently.
Over the last two years, Micron has improved its profits and cash flows by transitioning to advanced, cost-effective technology to help it reduce its costs. Its cost reductions enhanced its gains during the upturn, and it used this money to reduce its debt, as debt becomes a burden when cash flow is low or negative in a downturn.
Article continues below advertisement
In fact, Micron improved its cash position to such an extent that it announced a $10 billion stock buyback program. Higher profits and stock buybacks have inflated Micron's efficiency ratios in the last two years. Efficiency ratios show a company's management's ability to deliver high returns from low investments.
Return on investment
A company's ROI (return on investment) is subject to its capital structure, as it subtracts its cost of capital from its investment gains. Micron's deleveraging in 2017 and 2018 helped it improve its ROI to 42.7% in the trailing-12-month period leading up to February 2019 from 0.44% in fiscal 2016, its last cyclical downturn.
Negative-AND chip maker Western Digital (WDC) also reduced its debt by $2 billion, which helped it improve its ROI from 3.11% in fiscal 2016 to 3.7% in the trailing 12 months leading up to February 2019.
Article continues below advertisement
Return on equity
ROE (return on equity) removes the impact of debt and shows the profit a company can generate from its shareholder capital. Micron improved its ROE to 52.3% in the trailing 12 months leading up to February from -2.26% in fiscal 2016 by improving its net income, reducing its debt, and repurchasing shares.
Efficiency ratios set to fall
Micron's and WDC's efficiency ratios peaked at the end of fiscal 2018, when the market was in an uptrend. Now, these ratios are set to fall as the market enters a cyclical downturn. Falling memory prices and slowing demand will likely negatively affect Micron's net income and cash flows. The company will reduce its capital spending, but its income is likely to fall faster than its spending, thereby affecting its returns.
Some bearish Wall Street analysts expect the cyclical downturn to bring Micron's free cash flow to breakeven in the next 12 months compared to its free cash flow of -$2.65 billion in fiscal 2016.
Next, we'll look at Micron's price ratios and see what its efficiency and price ratios mean to shareholders.