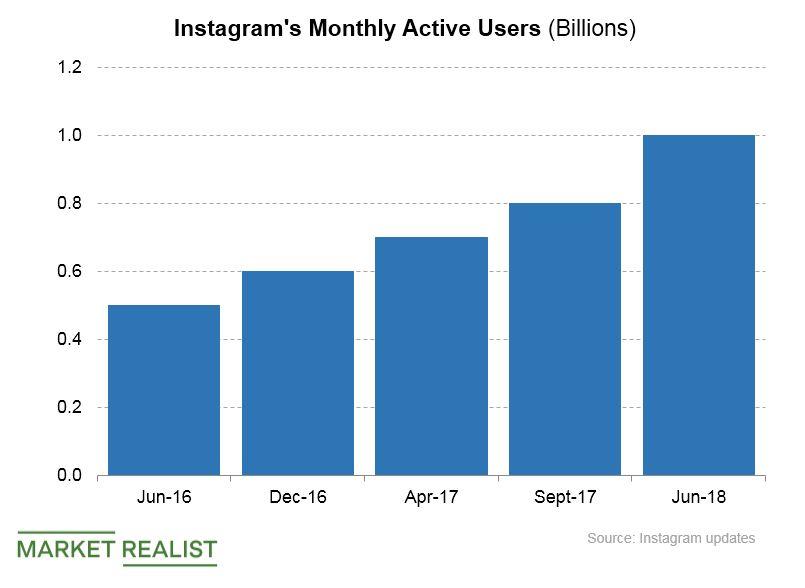 Instagram Comes to Facebook's Rescue amid User Growth Slowdown
By Neha Gupta

Aug. 1 2019, Updated 8:04 p.m. ET
Instagram dependence
Facebook's (FB) user growth appears to have hit a wall, raising concerns about the company's long-term prospects, according to The Verge. Although adding users and connecting the world have always been part of the company's mission, that mission has come at a cost, with the company encountering trouble with authorities around the world.
It is now becoming increasingly clear that Facebook may no longer be able to bank on its flagship app for growth. As struggles in adding new users are forcing the company to rethink its strategy, Instagram appears to be offering some reprieve by compensating for the flagship app's slowdown, according to Recode.
Article continues below advertisement
Facebook is becoming more dependent on its photo-sharing app, which appears to be in a phase of robust growth. Last June, Instagram reached 1 billion monthly active users and 500 million daily active users, and it has continued to grow impressively. With that growth, Facebook should be able to push for advertising dollars.
Shrugging off competition
Just as people thought that Facebook would crumble after hitting a wall in user growth, Instagram has become a crown jewel. Estimates indicate the photo-sharing app generated $9.0 billion in revenue last year, and that figure could rise as its active user count increases.
With Instagram's massive subscription base, Facebook may have an asset capable of fending off competition from Alphabet (GOOGL), Amazon (AMZN), Snap (SNAP), and Twitter (TWTR) on the advertising front. Even as Google and Amazon continue to ramp up competition for ad dollars, Facebook remains well positioned—it also boasts WhatsApp, whose users it could monetize to create another stream of revenue.