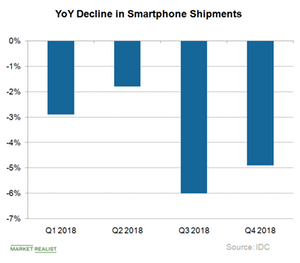 Increasing Memory Content to Drive Micron's Mobile Revenue
By Puja Tayal

Mar. 20 2019, Published 9:49 a.m. ET
Micron in the mobile market
Micron's (MU) traditional PC market is stabilizing as consumers upgrade their PCs to support high-resolution gaming, VR and AR (virtual and augmented reality), and other forms of visual computing. On the other hand, replacement sales have slowed in the smartphone market due to a lack of new technology. However, memory content per phone is growing.
In the mobile market, Micron offers low-power double data rate DRAM (dynamic random-access memory) and managed NAND (negative-AND) solutions, including embedded Multi-Media Controller, universal flash storage, and multichip package solutions.
Article continues below advertisement
The mobile market
According to International Data Corporation, smartphone shipments fell in all four quarters of 2018, with the biggest YoY (year-over-year) fall of 6% reported in the third quarter. Mobile giants Samsung (SSNLF) and Apple (AAPL) reported mobile revenue declines. Weak demand in 2018 came largely as a result of the slowdown in China (FXI). Apple's iPhone revenue fell 15% YoY, and all of this fall came from China.
Weaker-than-expected smartphone demand created excess memory inventory at handset makers. Reduced smartphone shipments and excess inventory at various customers weighed on Micron's mobile revenue growth rate and forced the company to lower its overall memory demand growth expectation for 2019 to the 15% range from the 18%–20% range.
Micron expects smartphone demand to pick up in the second half of 2019 driven by new product launches and the adoption of 5G technology. This growing demand should help handset makers absorb excess memory inventory and return to normal buying patterns in late 2019 and early 2020.
Micron's opportunity in mobile memory
At its 2018 Investor Day event, Micron said that it expected the mobile memory market to grow from ~$45 billion in 2017 to $54 billion in 2021. The majority of this growth is expected to come from increasing memory content per mobile device as handset makers add memory-intensive features such as AR, AI, and face recognition. The implementation of 5G will further increase the memory content per phone.
Micron estimated that an average smartphone contains 2.7 GB of DRAM and 43 GB of NAND. These amounts are expected to grow to 4.8 GB of DRAM and 142 GB of NAND by 2021. Flagship phones could contain 12 GB of DRAM and 1 TB of NAND by 2021.
Next, we'll look at Micron's data center opportunity.