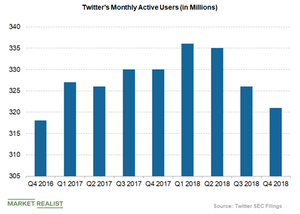 How Twitter Performed in February
Twitter's stock price performance
The stock of social media company Twitter (TWTR) closed down 0.39% on March 4 at $30.50. The stock has declined 8.3% in February but increased 6.1% on a year-to-date basis as of March 4.
Twitter reported its fourth-quarter 2018 results on February 7. The company delivered upbeat earnings and revenues and met the expectations for its monthly active users. However, the company provided soft guidance for 2019, as it expects operating expenses to increase by 20% YoY in 2019 to invest in initiatives to boost its revenues and its core platform.
Article continues below advertisement
User growth
Twitter has been struggling to grow its monthly active users (or MAUs) amid issues related to fake news. Like Twitter, Facebook (FB) and Alphabet's (GOOGL) Google are also struggling to combat fake news and have spent billions to prevent the spreading of misinformation.
In the fourth quarter, Twitter roughly met analyst estimates for MAUs at 321 million but was down from last year's MAUS of 330 million as the company is making efforts to remove malicious accounts and focus on their well-being over engagement. In comparison, Facebook's MAUs were 2.32 billion in the fourth quarter.
Beginning in the first quarter, Twitter will stop reporting MAUs and instead report a new metric called "monetizable daily active users" (or mDAU) to reflect its audience.
Twitter is also banking on its video ads to boost its ad revenues. According to eMarketer, video ads represent 55% of Twitter's overall ad revenue.