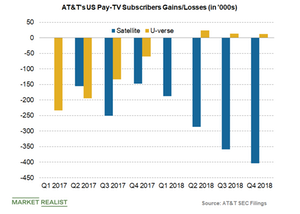 How Settlement with AT&T Led to Viacom-CBS Merger Talks?
By Sophia Nicholson

Updated
Viacom and CBS merger talks resumed
According to the New York Post, Viacom (VIAB) and CBS (CBS) returned to merger talks the day after Viacom settled its dispute with AT&T (T), the second-largest US wireless carrier, and agreed on a carriage renewal contract on Monday.
Article continues below advertisement
Carriage renewal contract
On March 25, Viacom settled with AT&T's DIRECTV, which avoided the blackout of Viacom's 23 popular stations like MTV, Comedy Central, and Nickelodeon on AT&T platforms. Although their earlier contract expired on March 22, the companies continued to negotiate to keep Viacom's channels on AT&T's DIRECTV, U-verse, and WatchTV services.
The contract was crucial for both parties. AT&T pays about $1 billion annually to Viacom in carriage fees, and therefore, the settlement deal was vital for Viacom's earnings. Also, AT&T accounts for 15% of Viacom's annual revenues. AT&T's DIRECTV also wanted the deal to happen amid its struggle to grow its pay-TV subscriber base. AT&T is also looking to reduce its debt levels after its purchase of Time Warner last year. DIRECTV has pending renewals with leading programmers including CBS and Walt Disney (DIS) in the coming months.
Recently, carriage fee disputes are rising between content providers and cable and satellite providers, as traditional media companies are struggling with declining viewership due to cord-shaving and cord-cutting. The growing popularity of online video streaming has attracted subscribers of conventional pay television services to streaming TV services such as Netflix (NFLX) and Amazon (AMZN).