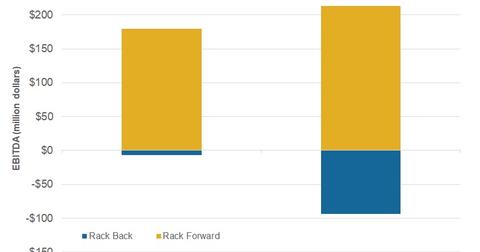 HollyFrontier's Lubricants Segment: What to Expect in 2019
By Maitali Ramkumar

Updated
Performance in 2018
HollyFrontier (HFC) has a strong lubricants and specialty products segment. Before evaluating the outlook for 2019, let's review how the segment performed in 2018.
In 2018, HollyFrontier's lubricants segment saw its EBITDA fall 31% to $120 million. The fall was led by the negative Rack Back (production and sale of base oils) EBITDA due to weaker base oil markets. However, Rack Forward's EBITDA (purchase and processing of base oils to produce and sell finished lubricant products) rose 19% to $213 million. Rack Forward's EBITDA margin was 13% in 2018.
Article continues below advertisement
Expectations for 2019
In 2019, HollyFrontier expects its Rack Back EBITDA to remain negative due to continued weakness in base oil cracks. However, HollyFrontier expects its Rack Forward EBITDA to be higher in 2019—between $275 million and $300 million. The EBITDA margin for the Rack Forward business will likely be between 11% and 16%. The Rack Forward is expected to benefit from the company's Sonneborn acquisition.
HollyFrontier acquired Sonneborn US Holdings for $655 million. The acquisition has expanded HollyFrontier's specialty product portfolio, which strengthened its Rack Forward business. HollyFrontier expects $85 million of additional annual EBITDA, including $20 million of annual synergies, from the acquisition.
Previous acquisitions
HollyFrontier has been expanding its lubricants segment for the past few years. In 2018, HollyFrontier acquired Red Giant Oil, which has storage, blending, and packaging facilities. The acquisition has positioned HollyFrontier to expand its locomotive lubricants market in North America.
In 2017, HollyFrontier acquired Petro Canada, which marked a significant addition to its lubricant portfolio. The acquisition added the Mississauga plant, which has 15,600 barrels per day of lubricants production capacity, to HollyFrontier's portfolio. The plant complemented the company's existing lubricant plant in Tulsa, which created synergies and a strong Rack Back platform.
HollyFrontier has created an integrated lubricant and specialty product value chain. The company has a stable platform for growth, which could turn into better earnings with improved business conditions.