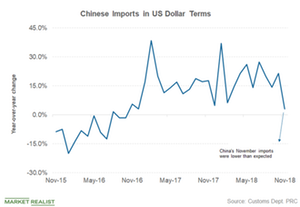 Gundlach: Global Economy Going from Growth to a Slowdown
By Anuradha Garg

Updated
A shift in narrative
In the first quarter of 2018, there was a narrative of synchronized global expansion. In January, the IMF (International Monetary Fund) raised its 2018 global economic growth forecast to 3.9% from 3.8% and emphasized that the growth was "the broadest synchronized global growth upsurge since 2010." 
That narrative, however, has shifted to more of a coordinated global slowdown since the end of 2018.
China's (FXI) slowdown has been among the biggest risks for global markets. Along with this risk, ongoing trade issues between the United States (SPY) (IVV) and China and other countries are weighing negatively on the global trade sentiment.
Article continues below advertisement
Heat map of the global economy
During the "Highway to Hell" webcast, Jeffrey Gundlach showed a heat map of the global economy, which showed that right now, global economic data are coming in mostly below the trailing-12-month averages, implying a slowdown. Recent US economic data have also been disappointing. US (DIA) manufacturing production fell 0.4% in February, marking the second straight month of output contraction. US companies Apple (AAPL) and NVIDIA (NVDA) have also warned that China's slowdown is hurting their earnings.
Gundlach mentioned that only some countries, such as Brazil (EWZ), Chile, Peru, and Uruguay, are in the red as far as their economic data are concerned, but for most of the rest of the world, the data are still concerning. He also showed how the economic data for the global index (ACWI) and Europe (HEDJ), in particular, are coming in at their lowest levels in the last seven years. Europe's purchasing managers' index shows that it's in an economic contraction, with Italy and Germany doing the worst.
From global expansion to global slowdown
Gundlach said that the falloff in global trade was one of the reasons for Europe's and other economies' weak performances. The year-over-year change in global trade volumes is now negative. He pointed out that this change was negative for two previous periods only when the United States was hit by a recession. Even in those periods, just before hitting the recession, the change was positive by 5%–10%.
This time around, trade volumes are already in the negative. It will be interesting to see how much worse trade can get if the current conditions are sustained and the world ends up going into a recession.