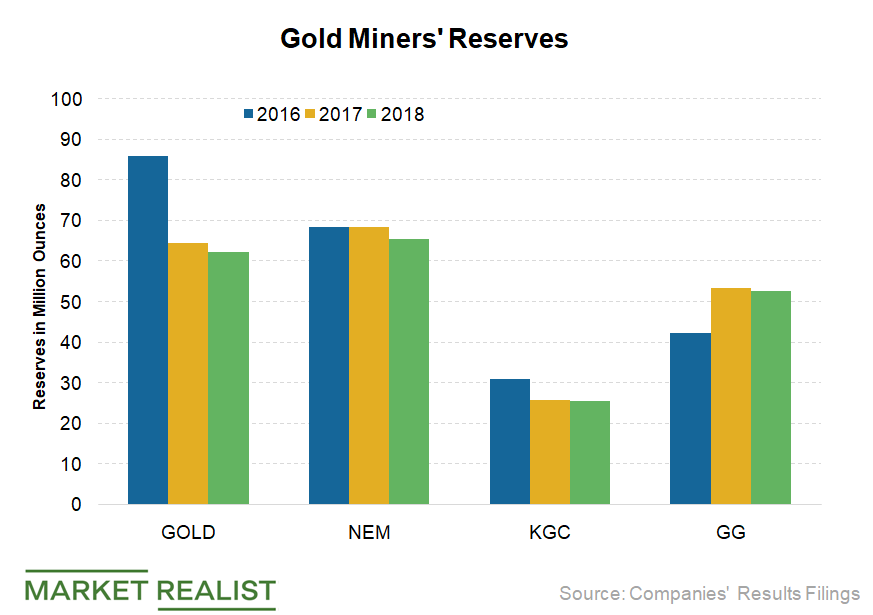 Gold Miners Fell Short of Replacing Their Reserves in 2018
By Anuradha Garg

Mar. 14 2019, Published 1:59 p.m. ET
Reserve replacement
To achieve production growth in the long term, gold miners (GDX) (GDXJ) have to replace every ounce they take out of the ground. Therefore, to gauge the long-term production sustainability of miners, it is vital to look at miners' reserves and resource estimates and the assumptions used to calculate them.
Goldcorp (GG) had proven and probable gold reserves of 52.8 million ounces as of June 30, 2018, a decline of 1.3% YoY. While the company's exploration program replaced most of the reserves depleted from production, a small net loss was experienced by GG from its non-operated mines including Pueblo Viejo. The reserve estimates are based on a gold price assumption of $1,200 per ounce.
Article continues below advertisement
Reserve declines
Barrick Gold (GOLD) reported mineral reserves of 64.5 million ounces at the end of 2018, a decline of 3.4% YoY. The factors contributing to this change in reserves were as follows:
4 million ounces of reserves were depleted through mining and processing
2 million ounces of reserves were added
Barrick kept its gold price assumption of $1,200 per ounce unchanged to calculate the reserves. Kinross Gold (KGC) has maintained its gold price assumption of $1,200 per ounce for estimating reserves. Its reserves were 1.5% lower YoY at 25.5 million ounces at the end of 2018. The addition of ~1.9 million ounces of mineral reserves from Fort Knox Gilmore and ~343,000 ounces from exploration mostly offset the decline during the year.
NEM reserves fell too
Newmont Mining (NEM) reported reserves of 65.4 million ounces for 2018, 4.5% lower than in 2017. While the company added 6.7 million ounces of reserves, which was ahead of its own target, negative revisions of 3.6 million ounces and the depletion of 6.1 million ounces more than offset the increase. Its gold price (GLD) (IAU) assumption for calculating its reserves was $1,200 per ounce, unchanged from the previous year.
The reserves for all companies fell in 2018. Exploration activity hasn't been able to cover the depletions during the year, and this is a concerning trend for the long term. This decline is one of the major reasons for the heating up of mergers and acquisitions in the gold miner spaces.
We'll look at the miners' per-unit cost progressions in the next part of this series.