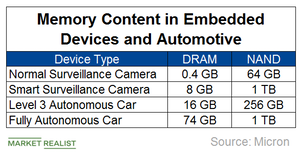 Embedded Market to Drive Micron's Future Growth
By Puja Tayal

Mar. 20 2019, Published 9:49 a.m. ET
Micron in the embedded market
Micron Technology (MU) is a pure-play memory manufacturer and will be one of the biggest beneficiaries of the data economy. The growing adoption of AI and 5G technology will make smart cars, smart cities, and smart factories a reality. It will boost innovation in the areas of IoT (Internet of Things) and AI at the edge.
Many external research companies expect the number of IoT devices to increase 150% from 18 billion in 2017 to 27 billion by 2021.
Micron's Embedded segment serves the automotive, industrial, medical, and consumer market categories. Right now, Embedded is the company's smallest segment, contributing 12% to its revenue. However, this segment is likely to grow significantly after 5G and autonomous vehicles roll out.
Article continues below advertisement
Surveillance cameras
One of the most common applications of AI at the edge will be smart surveillance cameras. NVIDIA's (NVDA) Metropolis Software Partner Program will leverage over 1 billion video cameras around the world by 2020 to solve law enforcement and traffic management problems.
At its 2018 Investor Day event, Micron estimated that a smart surveillance camera would require 16 times more memory—8 GB of DRAM (dynamic random-access memory) and 1 TB (terabyte) of NAND (negative-AND)—than a normal surveillance camera.
Autonomous vehicles
One of the biggest markets for AI at the edge is automotive. The automotive supply chain is working on developing autonomous vehicles in five levels, with level five being a self-driving car.
According to Market Research, the worldwide automotive memory market is expected to grow at a compound annual growth rate of 24% to $11 billion between 2018 and 2024. Micron will benefit the most from this opportunity, as it is a leader in automotive memory.
A fully autonomous vehicle will require 25 times more memory than what current cars require. At its 2018 Investor Day event, Micron said it estimated that a level-three autonomous car would have 16 GB of DRAM and 256 GB of NAND, whereas a fully autonomous car would have 74 GB of DRAM and 1 TB of NAND.
Other large markets for AI at the edge include industrial IoT and healthcare. Among these opportunities, China poses a risk for Micron. We'll see why next.