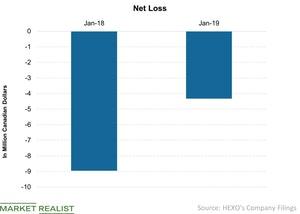 Despite Huge Revenue Growth, HEXO Still Recorded Loss in Q2
Profitability
In the earlier part of this series, we discussed how HEXO (HEXO) experienced solid growth in revenue in its second quarter. The company reported a gross income of 6.9 million Canadian dollars, which grew from 732 thousand Canadian dollars. However, year-over-year, the company's gross margins contracted over the same period from about 61% of net sales to 51% of net sales in Q2.
Article continues below advertisement
The bottom line
The company, however, reported a loss during the quarter due to an increase in operating expenses. During the second quarter, HEXO's operating expense grew to 18.5 million Canadian dollars, which would roughly equal 1.4x what the company earned in sales during the quarter. This ratio was 4.6x in the corresponding quarter of 2018. General and admin costs accounted for more than half of the total operating expenses for the company.
A steep operating expense also resulted in a net loss of 4.3 million Canadian dollars, which was lower than the 8.9 million Canadian dollars in the corresponding quarter a year ago in 2018.
The company's costs have increased as a result of expansion efforts to capture recreational cannabis sales. The company stated that its headcount rose about 32% sequentially, and it continued to invest in expansion facilities.
Costs have also risen for companies (MJ) like Canopy Growth (WEED), Cronos Group (CRON), and Tilray (TLRY), which have also invested heavily in expansion activities.
Read on for more updates from HEXO's Q2 earnings.